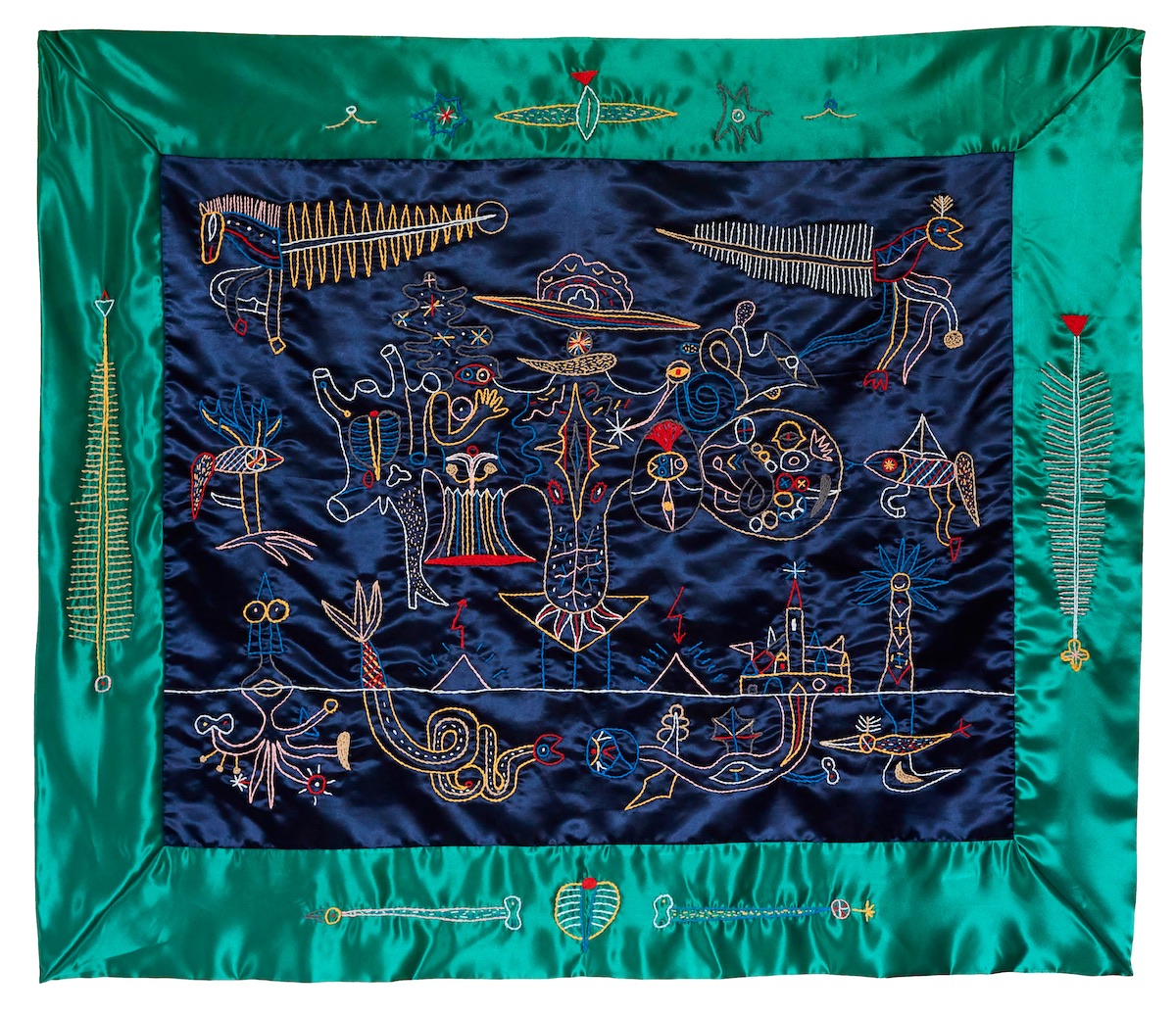 Fairy Mausoleum
2020
Embroidery on fabric
145x125cm
Chapiteau after the rain
2022
Textile, polymer clay, ceramics, minerals, bone, copper, adhesive tape, vegetals, porcelain, paper, beads
175x95x30 cm
In the Dust of this Planet, group show, ART4 Gallery, Moscow
2022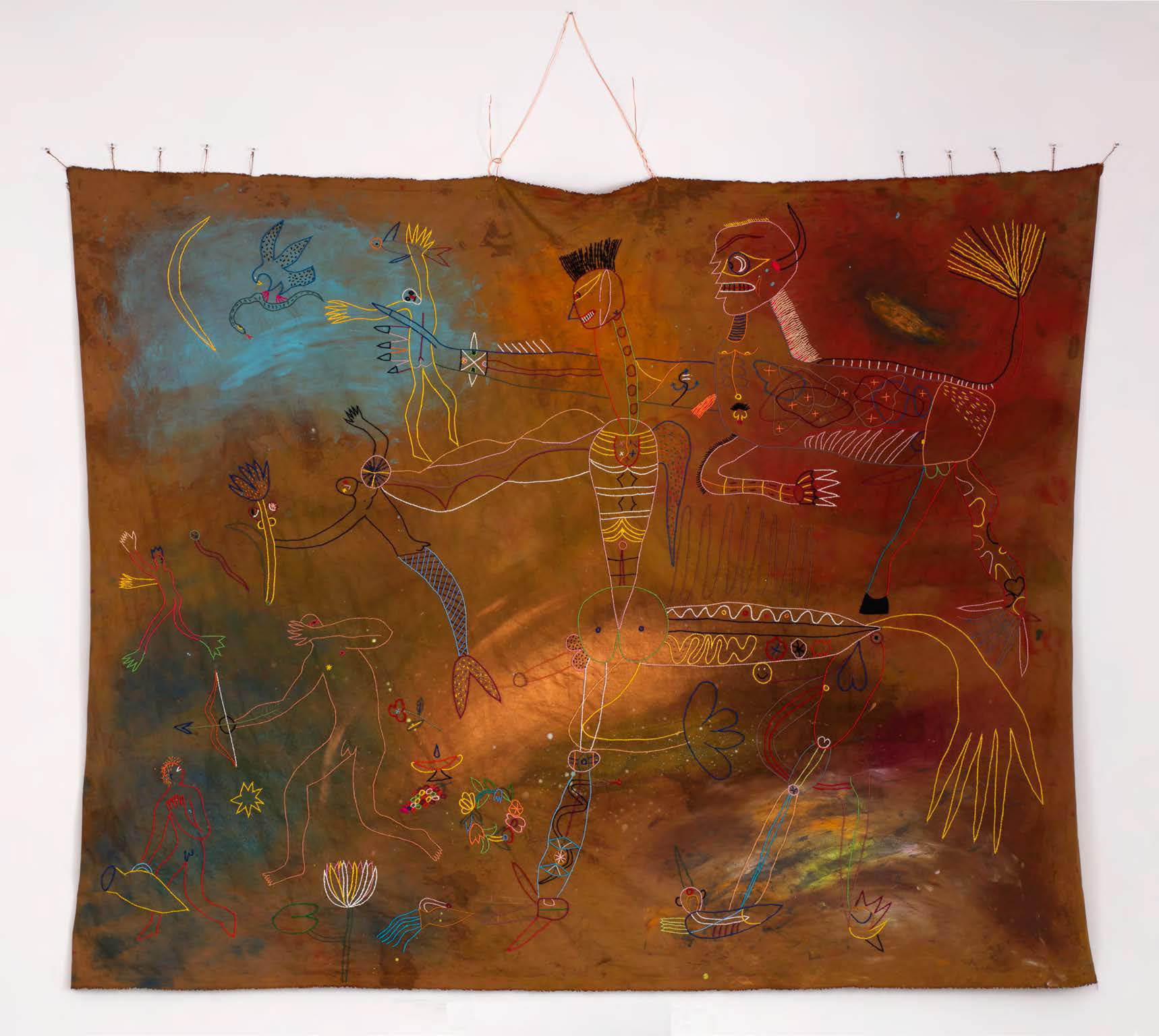 Barbarians at the watering hole, from the show "In the Dust of this Planet"
2021
paint and embroidery on fabric
160x200 cm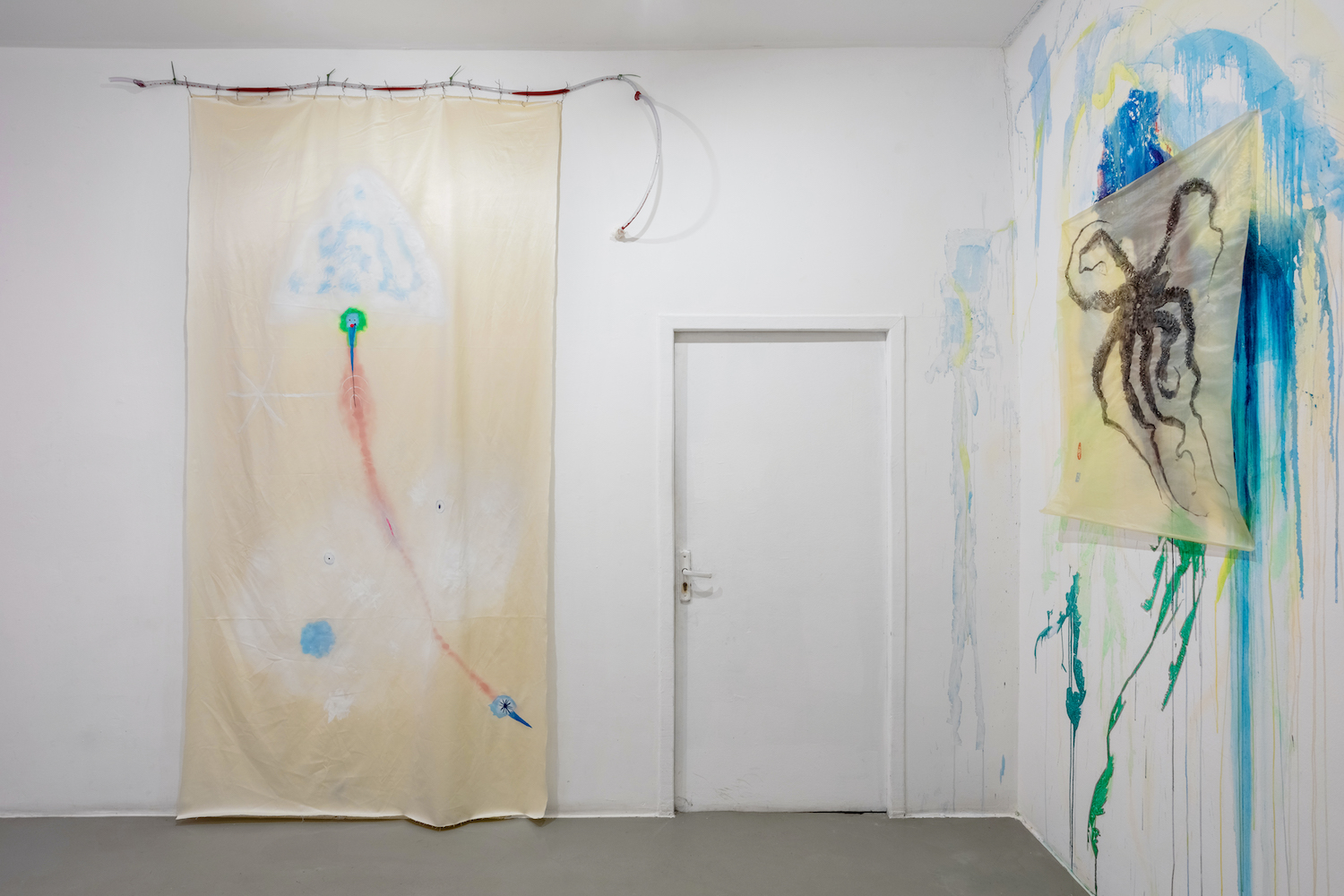 Snegurushka (on the left), from the show "All the Others Inside Me", Iragui, Moscow
2022
satin fabric, hosepipe, fishhooks, spray paint, acrylic paint
285x150 cm
Penguin, from the show "All the Others Inside Me", Iragui, Moscow
2021
acrylic paint on canvas
130x100cm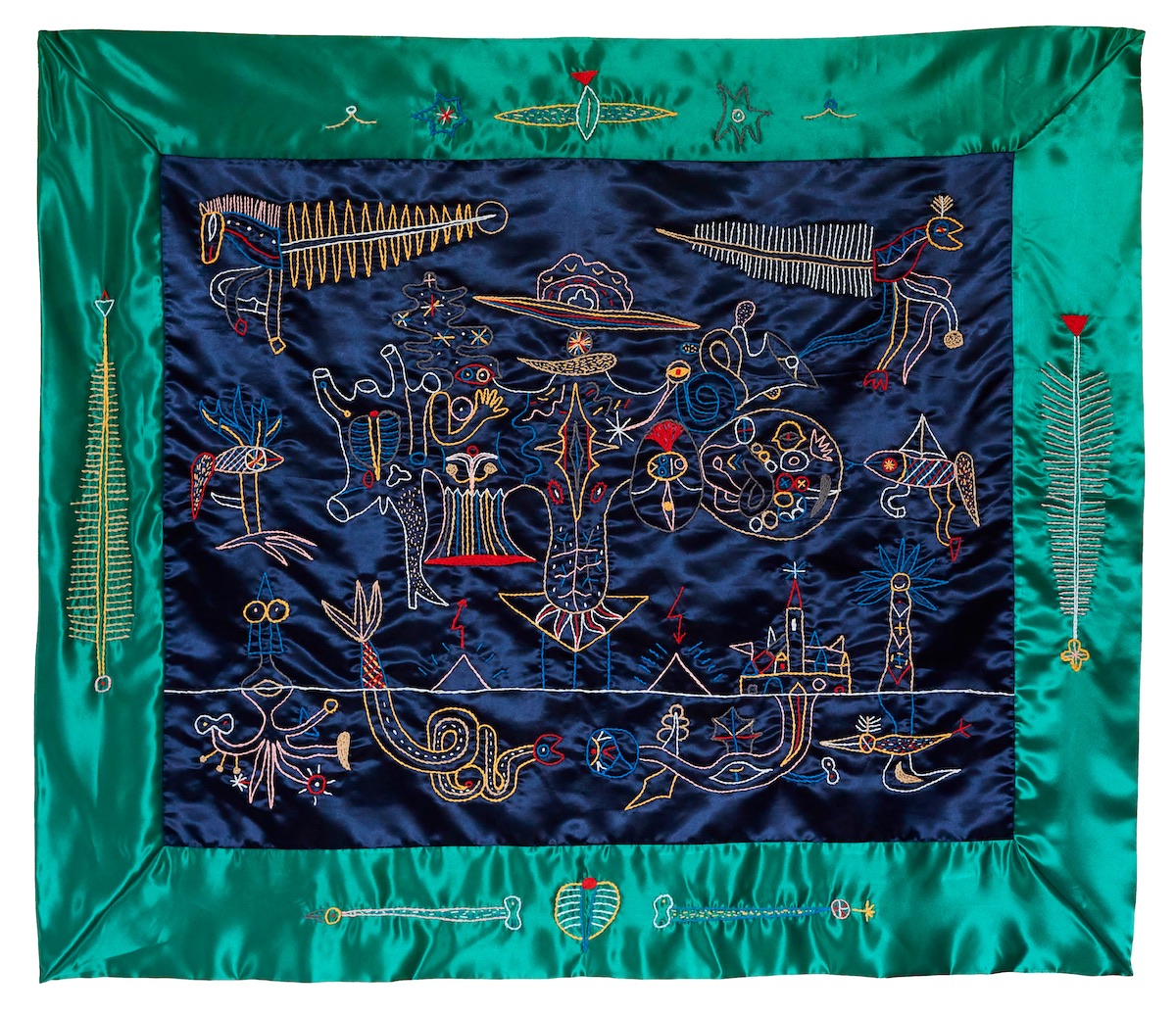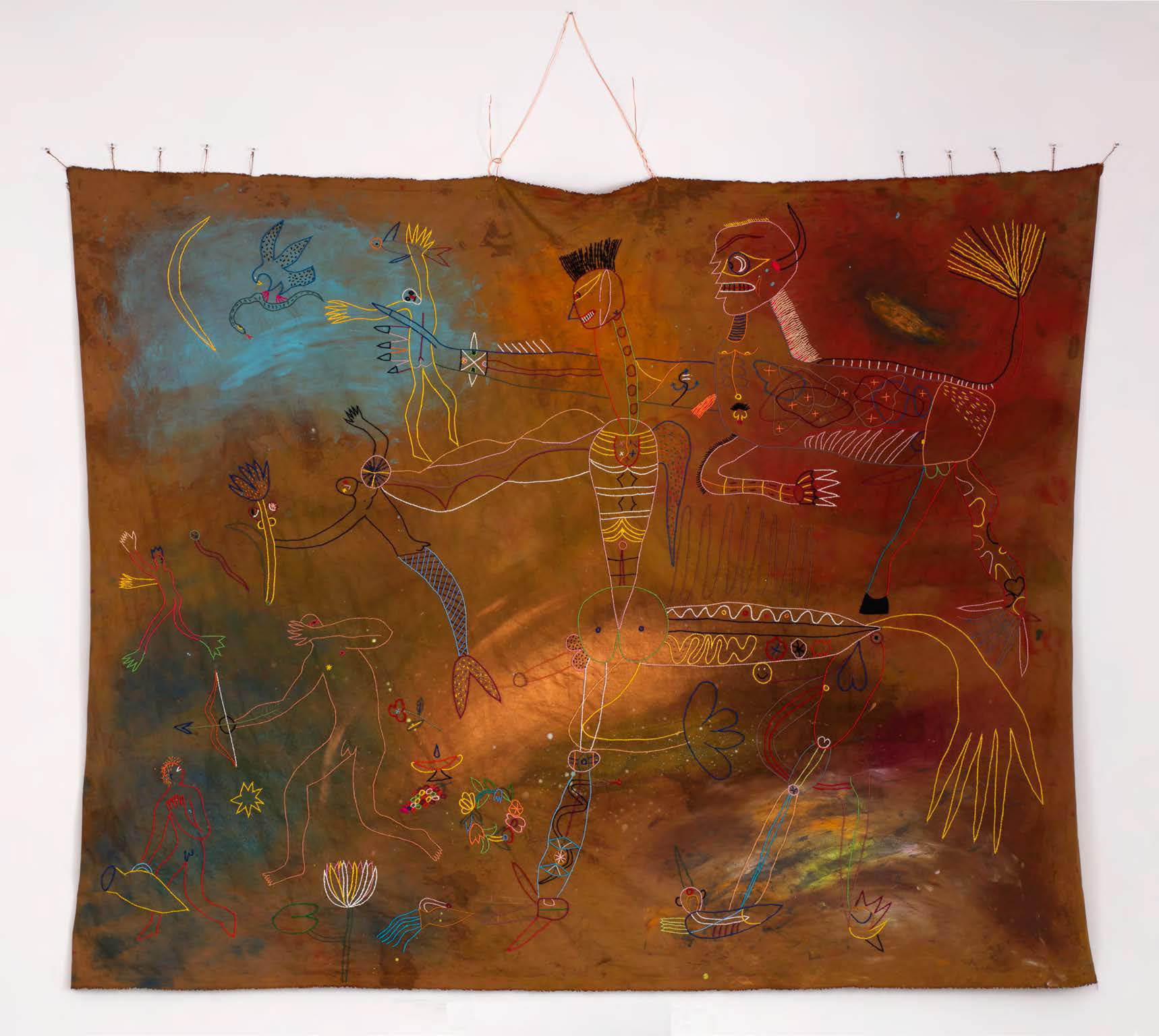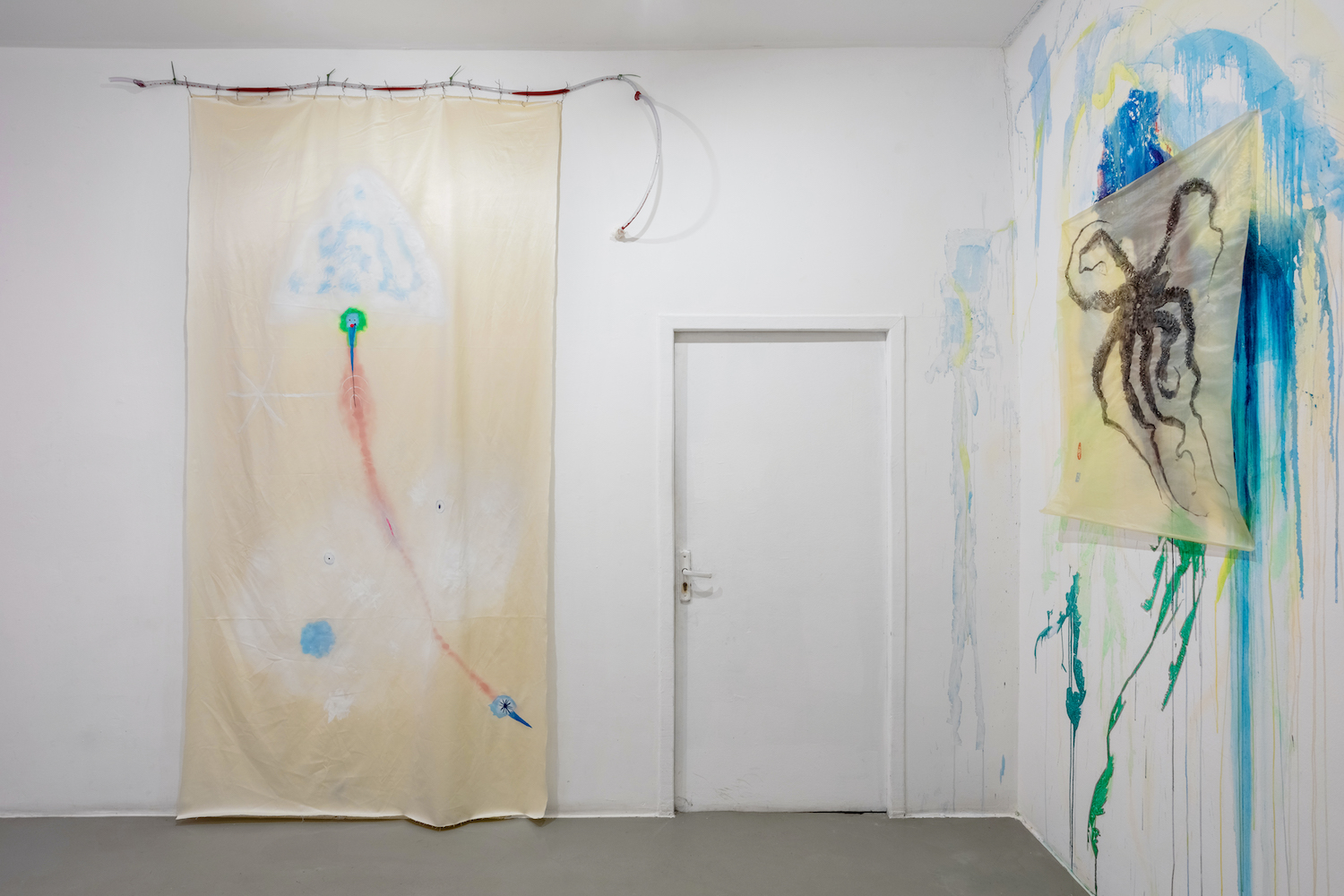 "Rodion Kitaev works with drawing, painting, embroidery, puppetry, and sculpture. His iconographic universe impregnated with mythological figures, half human, half vegetable, pre-existing or imagined by the artist himself, is the fruit of a search for new archetypes allowing to interpret the contemporary world in the folds of its deep changes." — curator Nicolas Audureau describes his practice.
Rodion Kitaev (b. 1984 in Moscow, Russia) lives and works in France. He graduated from the Ivan Fedorov State University of Printing Arts in Moscow in 2008, and he was also an attendee at the Institute of Contemporary Art Moscow.
He have had several personal exhibitions in Moscow and Saint-Petersburg over the last couple of years — "The island is full of sounds" House of Culture "Delai Kulturu" (2019, Moscow), "Red Color Constructor" Bookstore "Union of Printers" (2021, Saint-Petersburg), "Quiet Week at Home" media center on Argunovskaya Street (2021, Moscow) and "I regret that I am not a beast" Art center 'Pushkinskaya-10' (2021, Saint-Petersburg).
He participated in the Biennale of San Sebastian (2018, Spain) and the Architecture Biennale in Sao Paulo (2019, Brazil). Recently he took part in the group exhibitions "Raw and Cooked" at the Russian Museum of Ethnography (St. Petersburg, 2021) and "In the Dust of this Planet" (curator Alexander Burenkov) at Museum ART4 (Moscow, 2022).
As an illustrator he has collaborated with Forbes Russia, Esquire Russia, Men's Health Russia, Interview Russia, Pushkin State Museum of Fine Arts (Moscow), State Darwin Museum (Moscow), Museum of the city of Moscow, Jewish Museum and Tolerance Center (Moscow), International Biennale of Contemporary Art Manifesta 10 (Saint-Petersburg), Manifesta 11 (Zurich) and many others.
His works are in the collections of Art4 Museum, Moscow, Ruarts gallery, Moscow
Futuro gallery, Nizhny Novgorod, in private collections in Austria, Germany, Portugal, Russia, Switzerland, the USA.