Still frame from the video series "From the Life of Planets". Part of LOOP Video Art Fair 2021
2012-2014
Series of 6 videos
duration between 5 min 53 sec and 10 min 51 sec each. 46 min 16 sec in total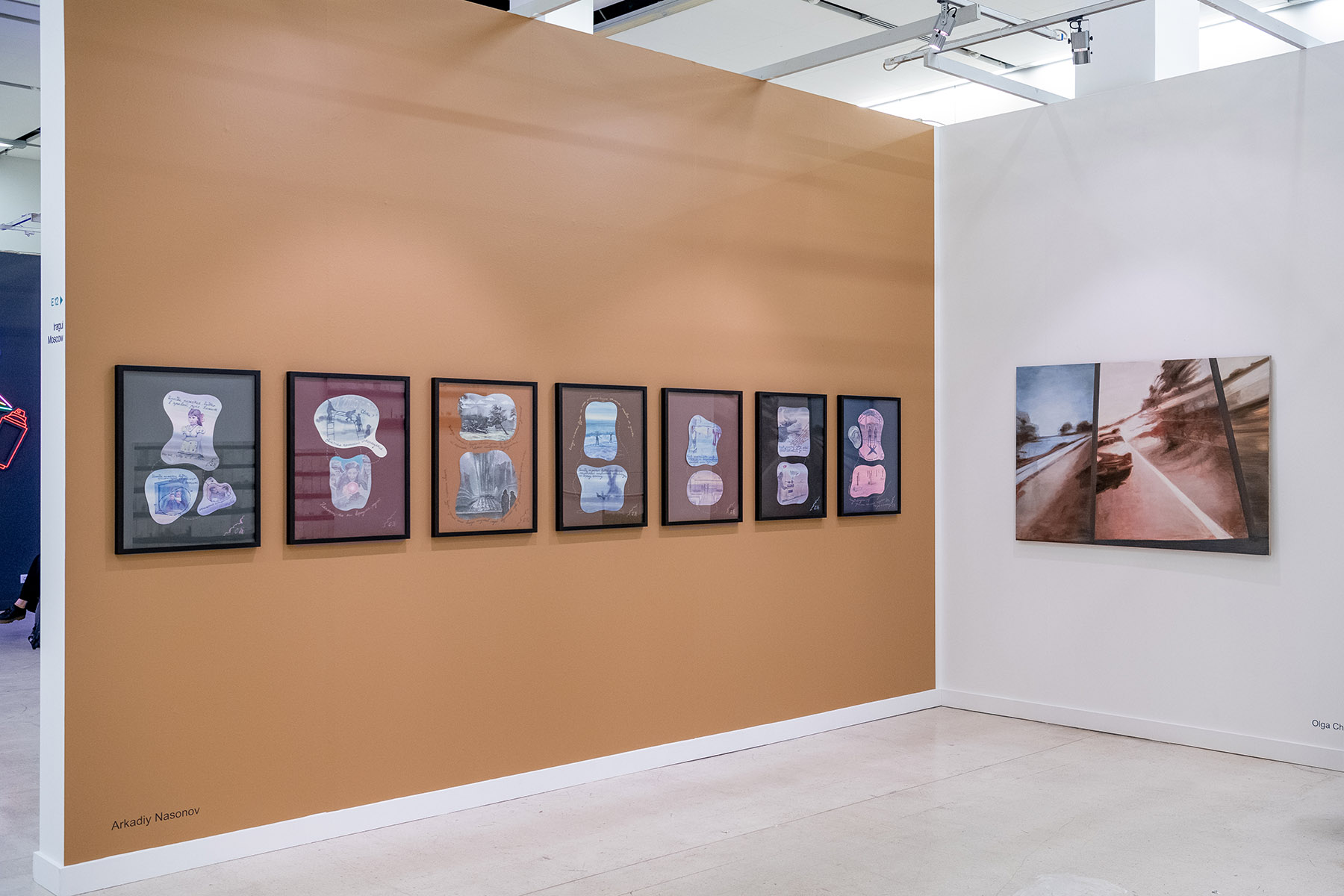 From the series "Observations of the Cloud Commission", 1993—1996. Installation view at Iragui gallery booth, Cosmoscow 2021
2021
From the series "Observations of the Cloud Commission". 1993-1996. Sometimes it seems that clouds, even in the strongest hurricanes, don't lose their cold indifference... Sometimes it seems as if in the light of the moon at night around people's silhouette a barely perceptible shining edging appears...
1993
Gouache, watercolor, marker, collage on paper
65x50 cm
Solo show "Minus One". Installation view at Iragui gallery, Moscow
2018
"-121°C". From the project "Minus One". The caption reads: "And finally I can hear my favorite concert by Rachmaninoff...* * ~ In fact, it was the hoot of a snowy owl (editorial note)"
2018
Indian ink and watercolor on paper
55,5x76 cm
Installation view at the group show "Doublethink : Doublevision", Pera Museum, Istambul
2017
"Two boots are a pair, but two heads are better". From the series "Cloud Commission"
2000
Gouache, watercolor, collage
65 x 50 cm
Solo show "TOPOS LOST". Installation view at Iragui gallery, 2015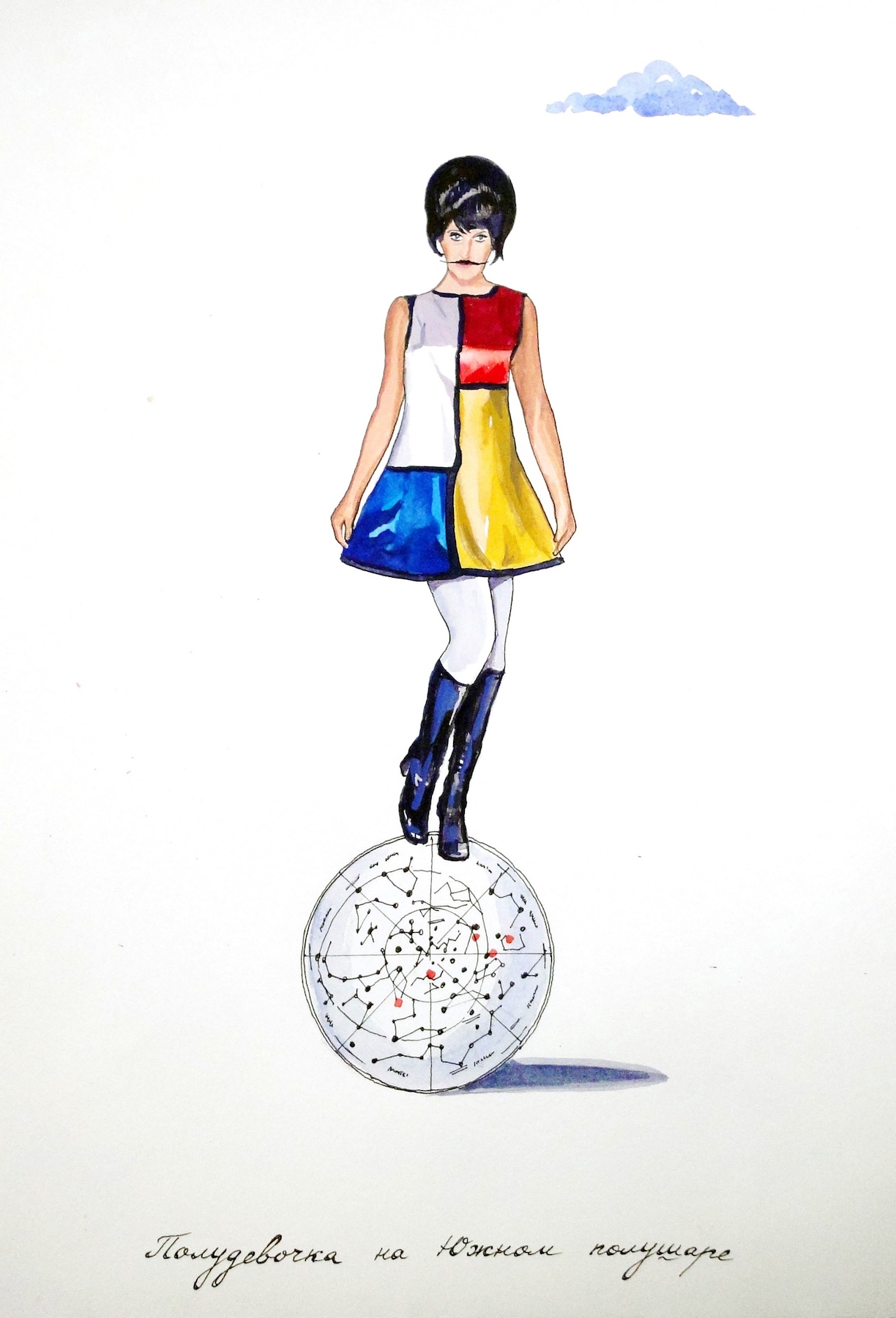 "Half Girl on the South Half Ball". From the series "Half-girls on half-balls"
2012
ink, watercolor on paper
50x60 cm
Invitation for the show "Red clew or small knots for memory" at Iragui gallery, Moscow
2011
Part of the installation at the show "Red clew or small knots for memory" at Iragui gallery, Moscow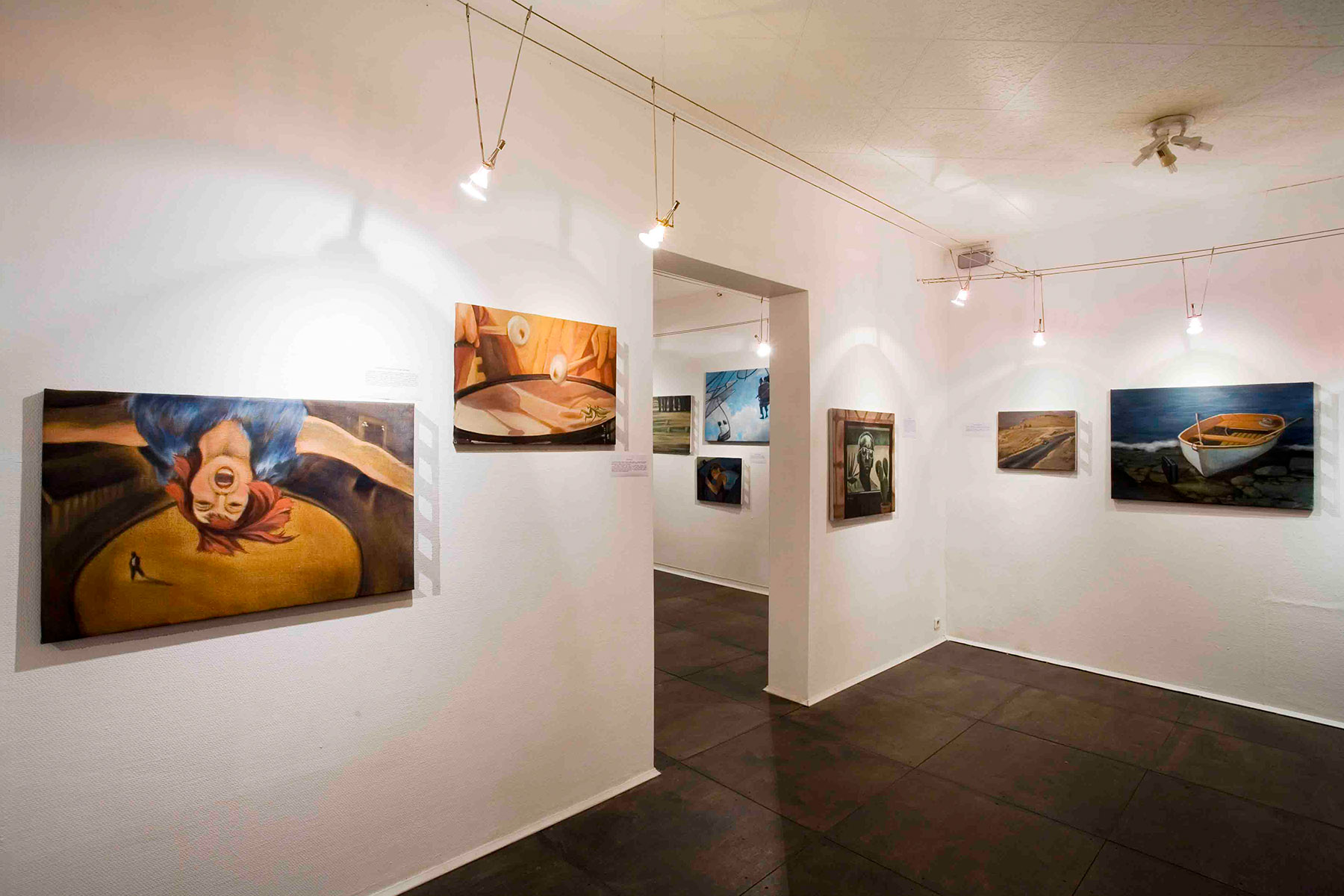 Installation view of the show "My future movies", RA gallery, Kiev
2011
From the project "My future movies"
2005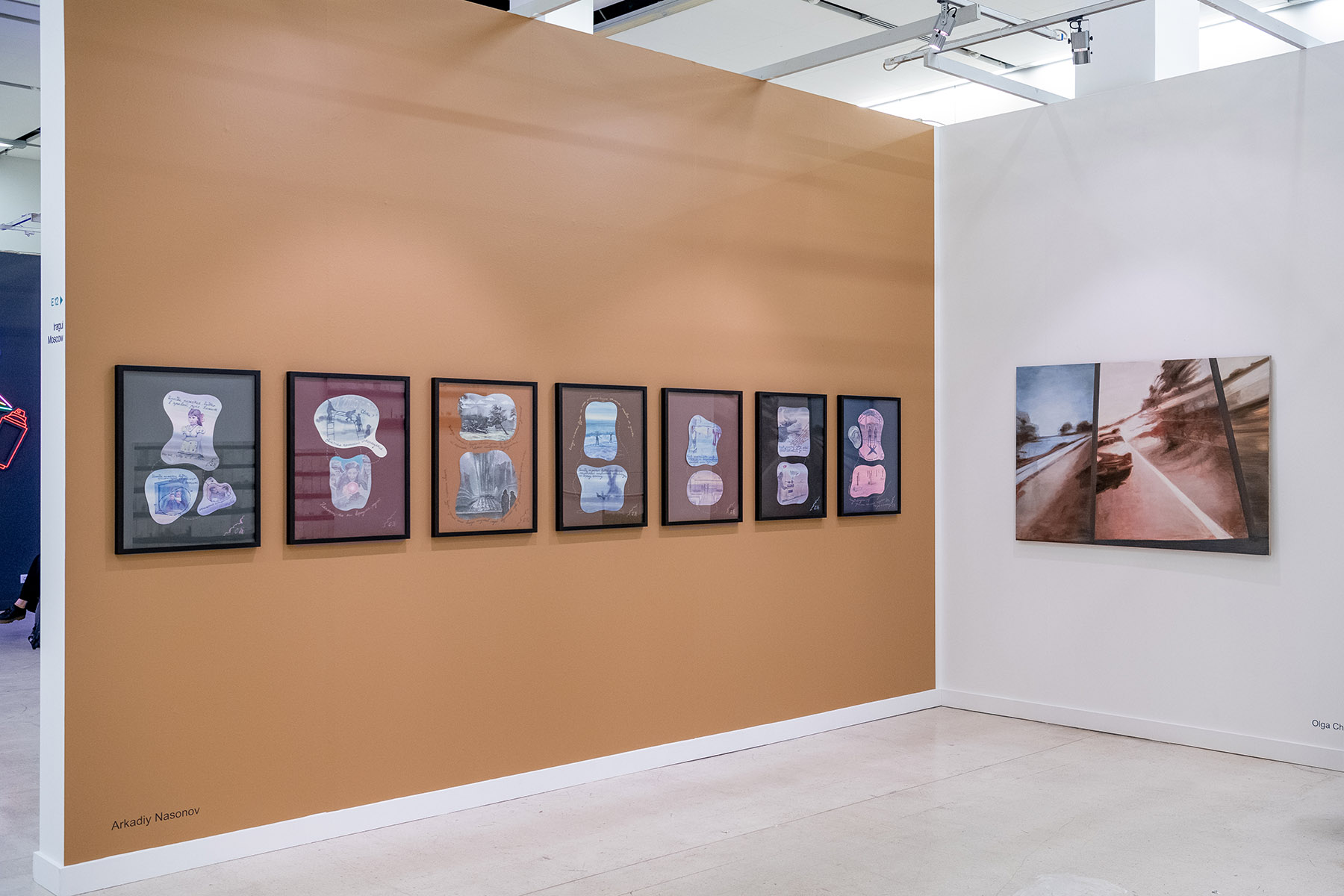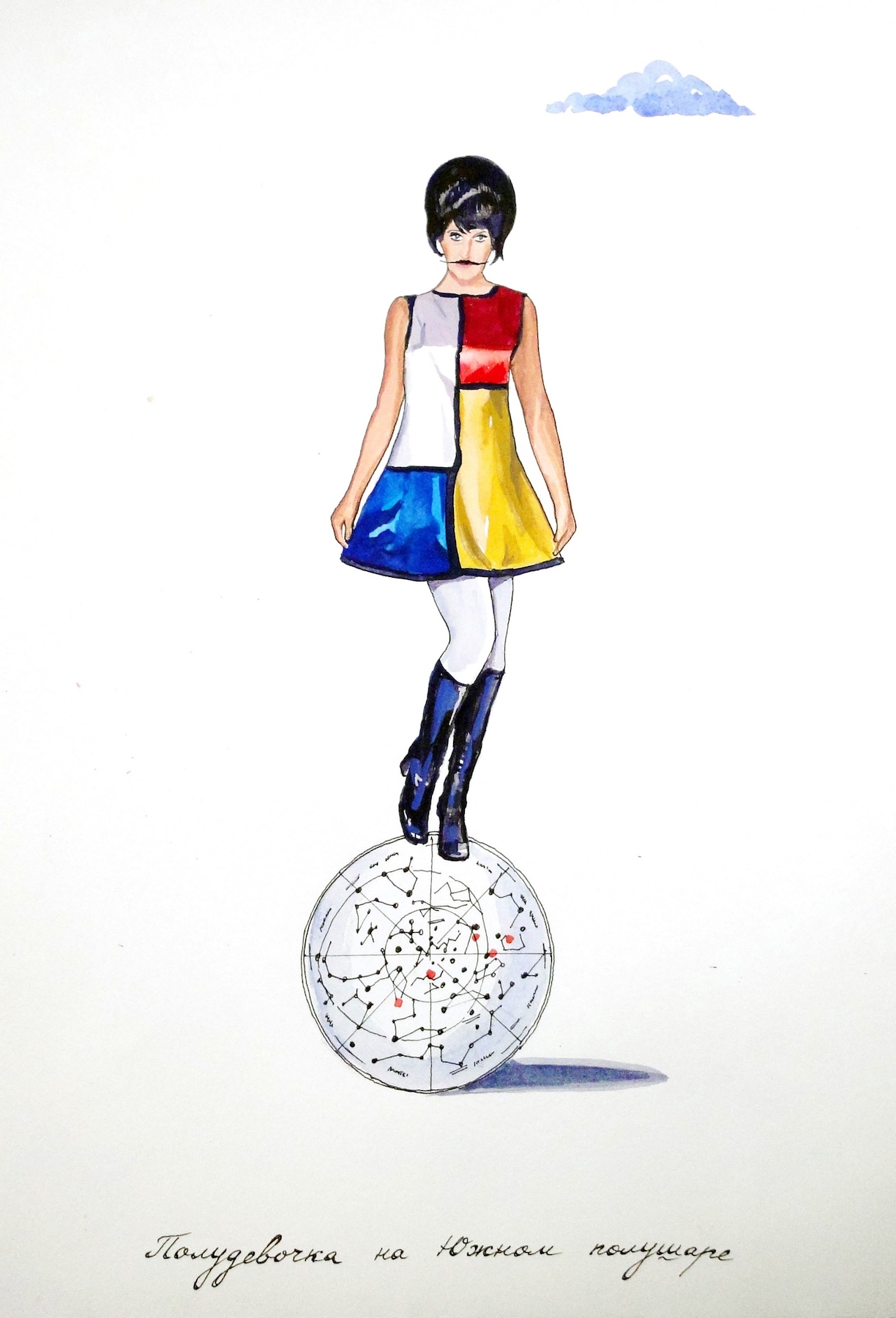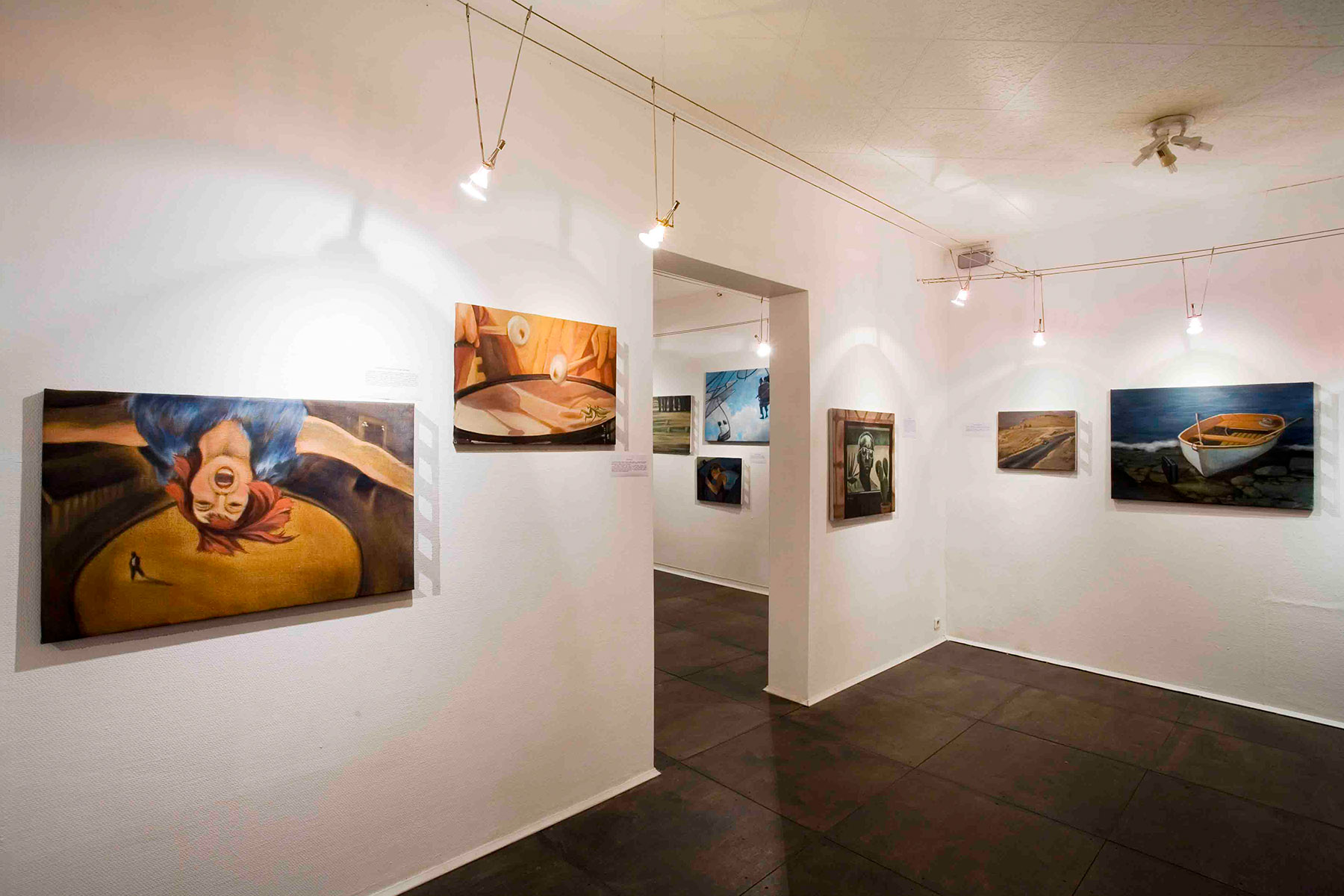 Arkadiy Nasonov is linked to the circle of Medical Hermeneutics group, founded by Pavel Pepperstein in the late 1980s. Nasonov's work perfectly matches the term "psychedelic realism", it is filled with conceptual hallucinations and esoteric associations.
Nasonov is most known as founder of an art group "Cloud Commission" (created in 1991 together with D Ligeiros, Т. Detkina and others). As Daria Kurdyukova explains, "The commissioners who joined were given the Cloud Commission forms […] The paperwork of all sorts of offices and commissions was interpreted sarcastically in Nasonov's form sheets – neat pictures were supplemented with industriously drawn comments that preserved the flavor of the Soviet officialdom language but were reduced to absurdity, being turned into some schizophrenic flow of words."
In 1995 Arkadiy Nasonov with S. Anufriev and A. Sobolev founded TARTU – poetry society that positioned its poetic experiences in the tradition of Russian school of linguistic structuralism. Nasonov is also an author of a project Gallery of a Single Visitor.
Arkadiy Nasonov was born in 1969 in Sverdlovsk (now Ekatherinburg), Russia. Now he lives and works in Moscow. He graduated from Moscow Academical Theatre Institute (stage design) in 1991.
His work has been presented in several solo shows: at the State Institute of Art Studies in Moscow (2015), Freud dreams museum in Saint-Petersburg (2013, 2003), Zverev Center of contemporary art (2011), State Tretyakov gallery with S. Anufriev (2005). Nasonov also took part in numerous group shows such as at Moscow Museum (2021), PERA Museum in Istanbul (2017), National Center of Contemporary Art in Moscow (2015), Moscow Museum of Modern Art (2014), Garage MCA in Moscow (2010). Works of Arkadiy Nasonov can be found in collections of Rijksmuseum Twenthe in Holland, in Deutschebank collection in Berlin. Arkadiy Nasonov had grants and fellowships such as Grant of Dutch Instute in Rome in 2000, fellowships of La Napoule Art Foundation in 2002, Kunstlerhaus (Worpswede) in 2003.