Installation view at Iragui gallery, Moscow
2023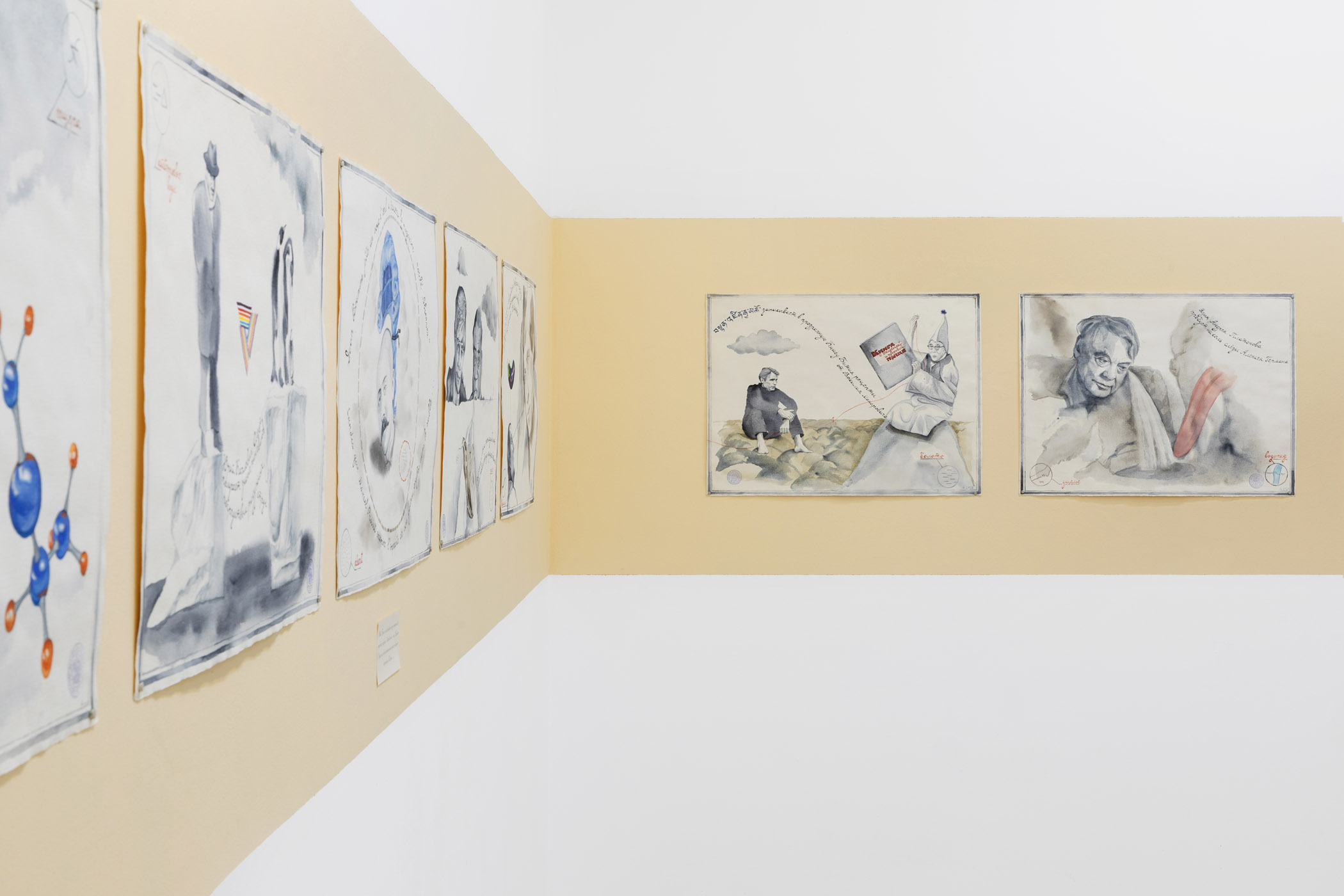 Installation view at Iragui gallery, Moscow
2023
Installation view at Iragui gallery, Moscow
2023
Installation view at Iragui gallery, Moscow
2023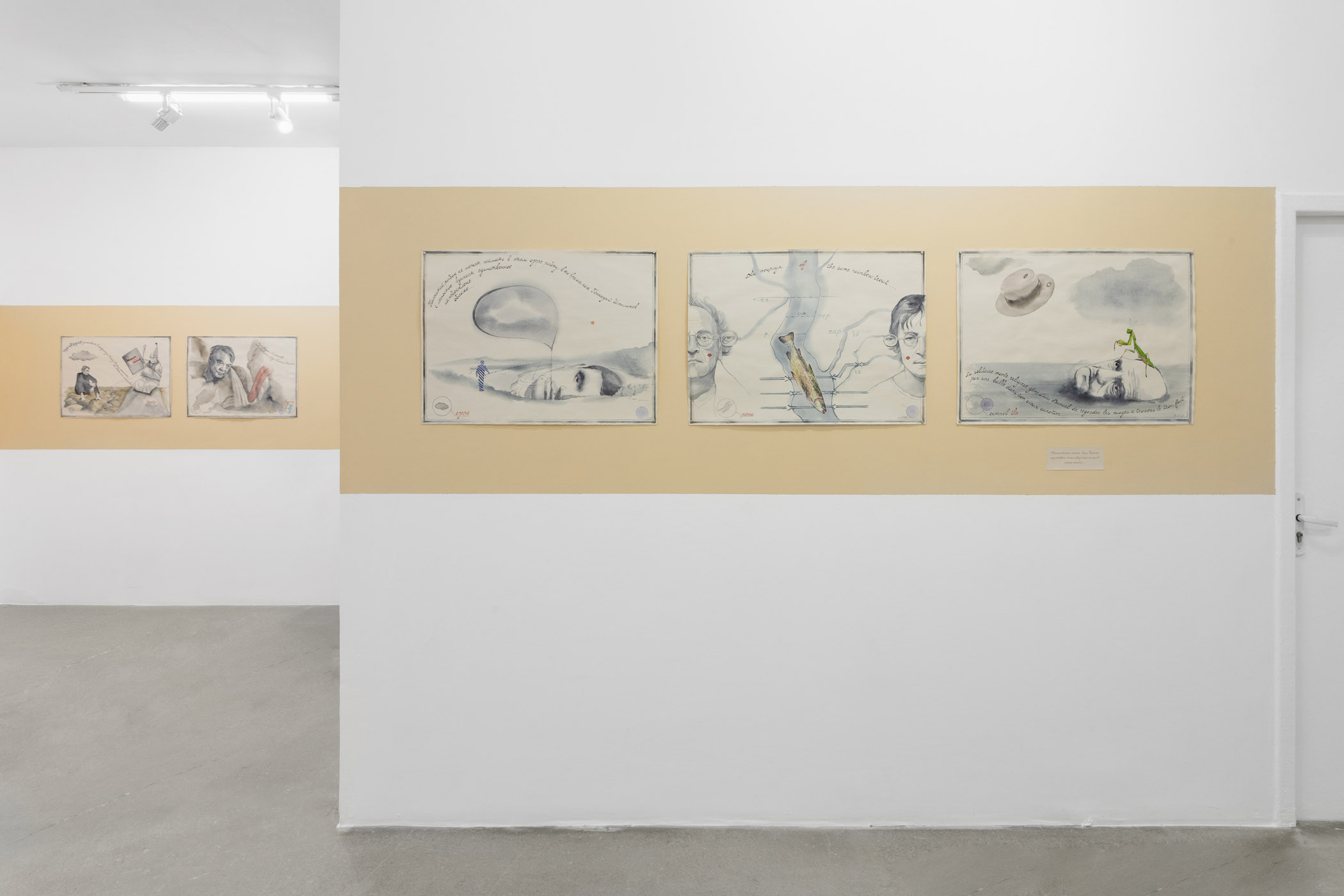 Installation view at Iragui gallery, Moscow
2023
Installation view at Iragui gallery, Moscow
2023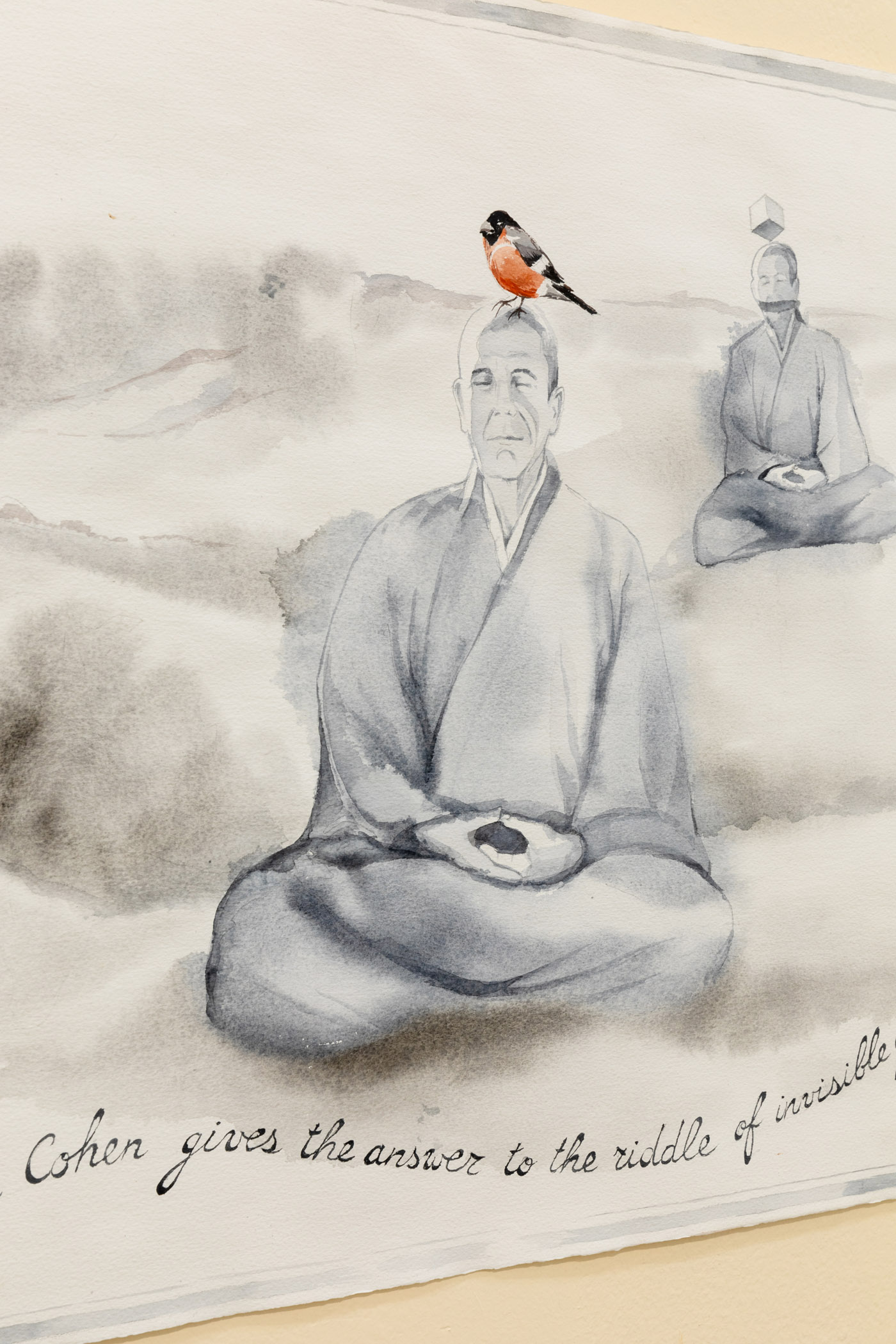 "Leonard Cohen gives the answer to the riddle of invisible guest…". Installation view at Iragui gallery, Moscow
2023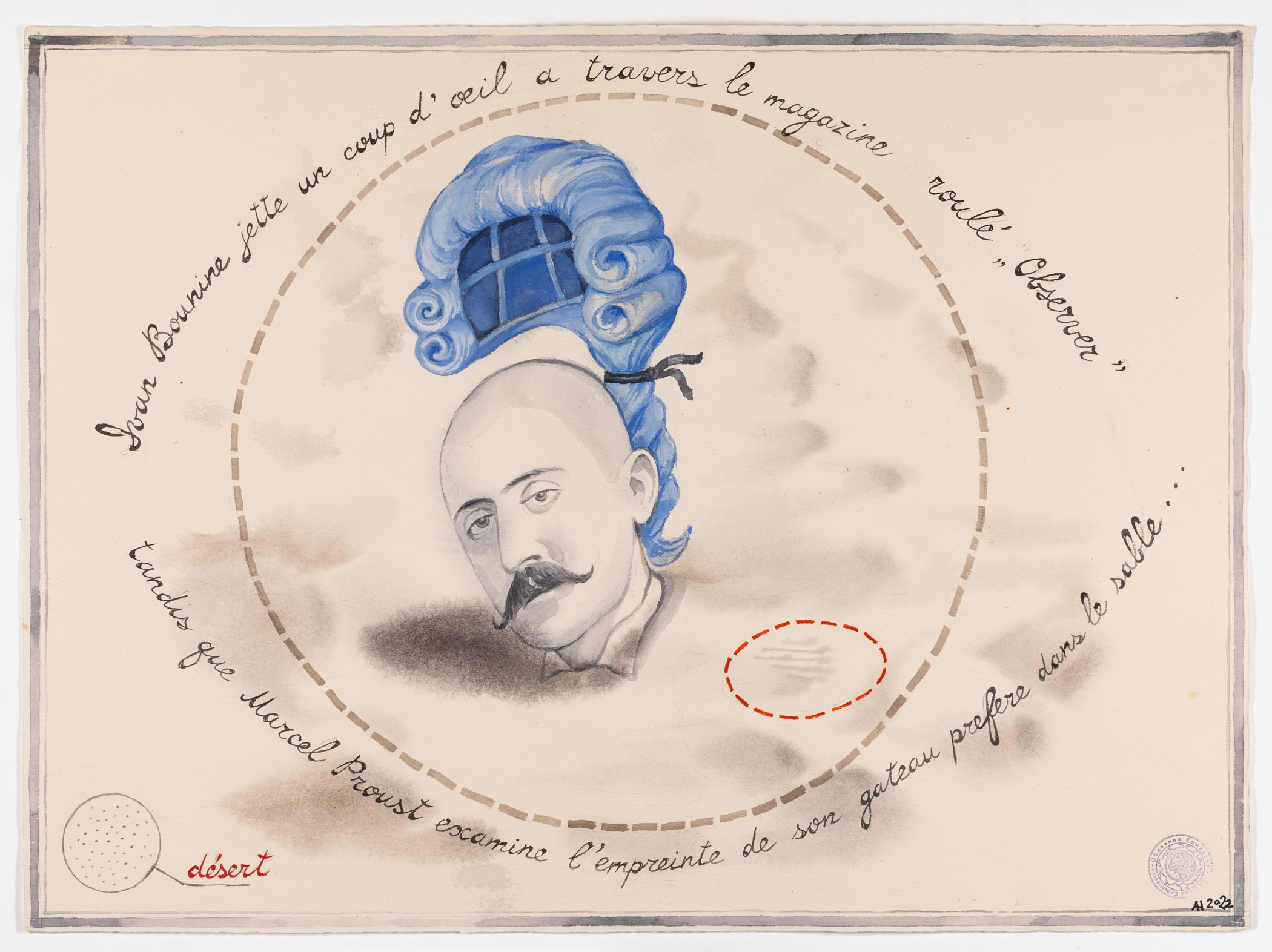 From the series "Topos Lost — 2"
2022
Indian ink and watercolor on paper
55,5 x 75,5 cm
"Yury Karlovich Olesha obtains penguin knowledge by using the rainbow strings"
2022
Indian ink and watercolor on paper
55,5 x 75,5 cm
"The two kisses of the same rainbow trout…"
2022
Indian ink and watercolor on paper
55,5 x 75,5 cm
From the series "Topos Lost — 2"
2022
Indian ink and watercolor on paper
55,5 x 75,5 cm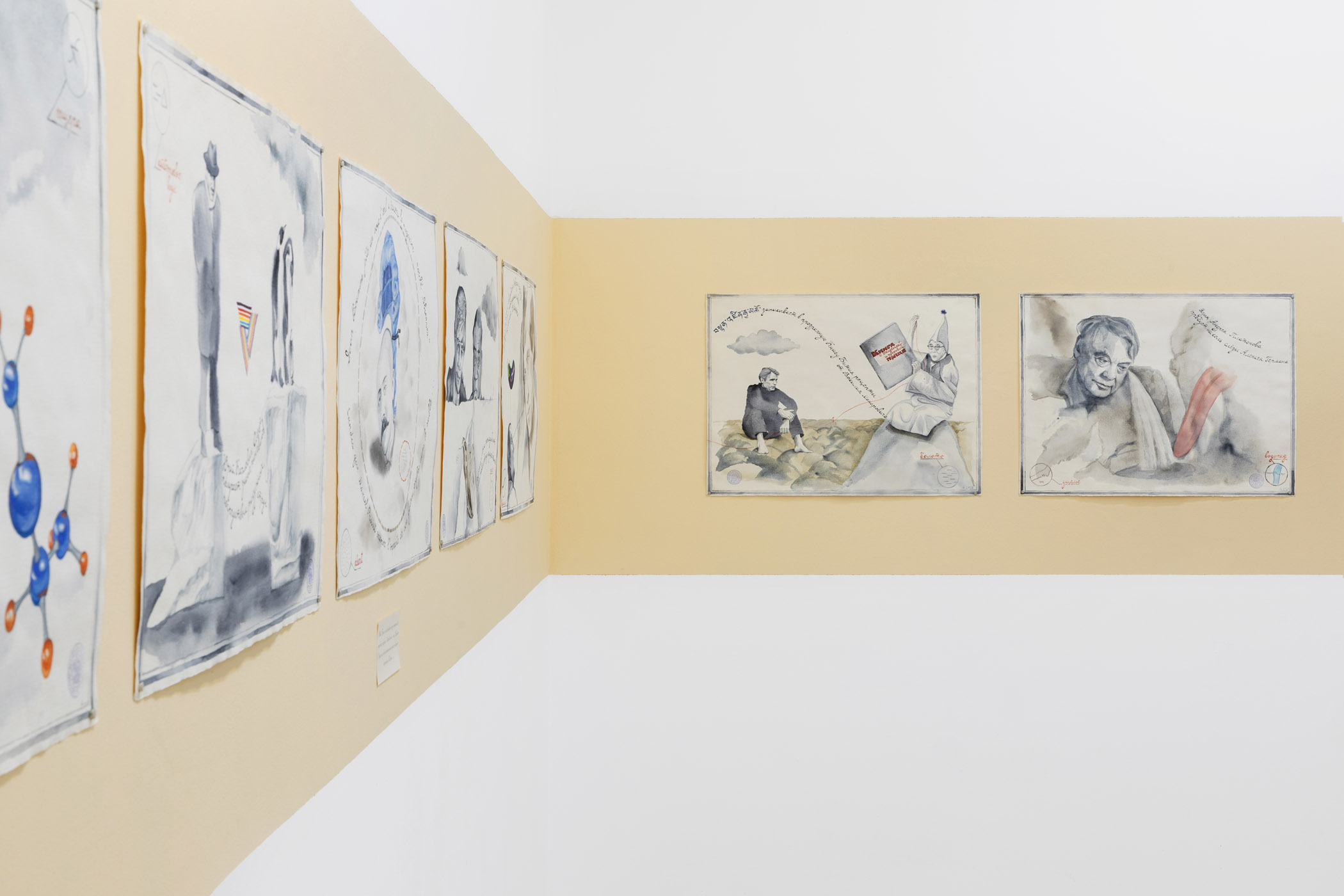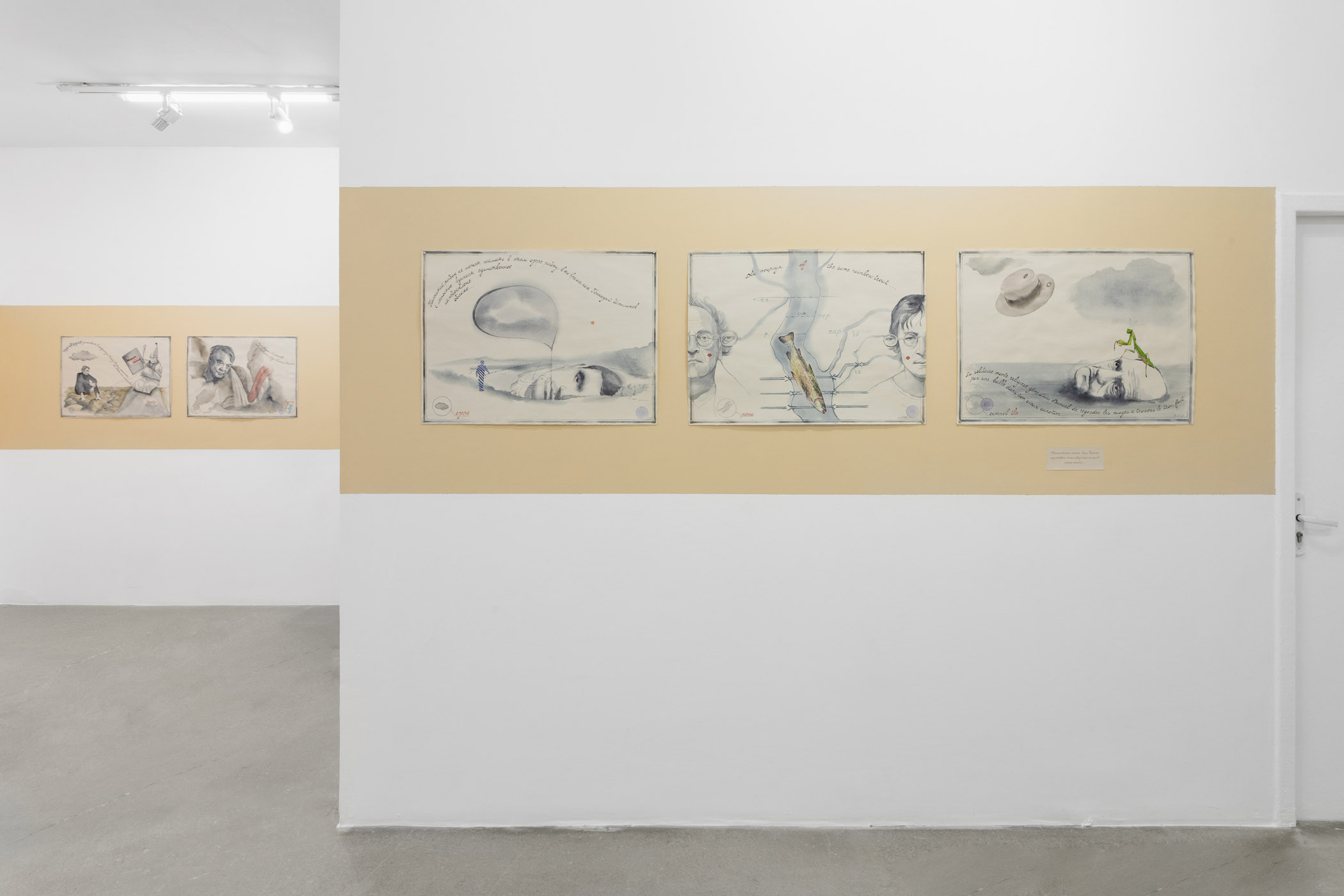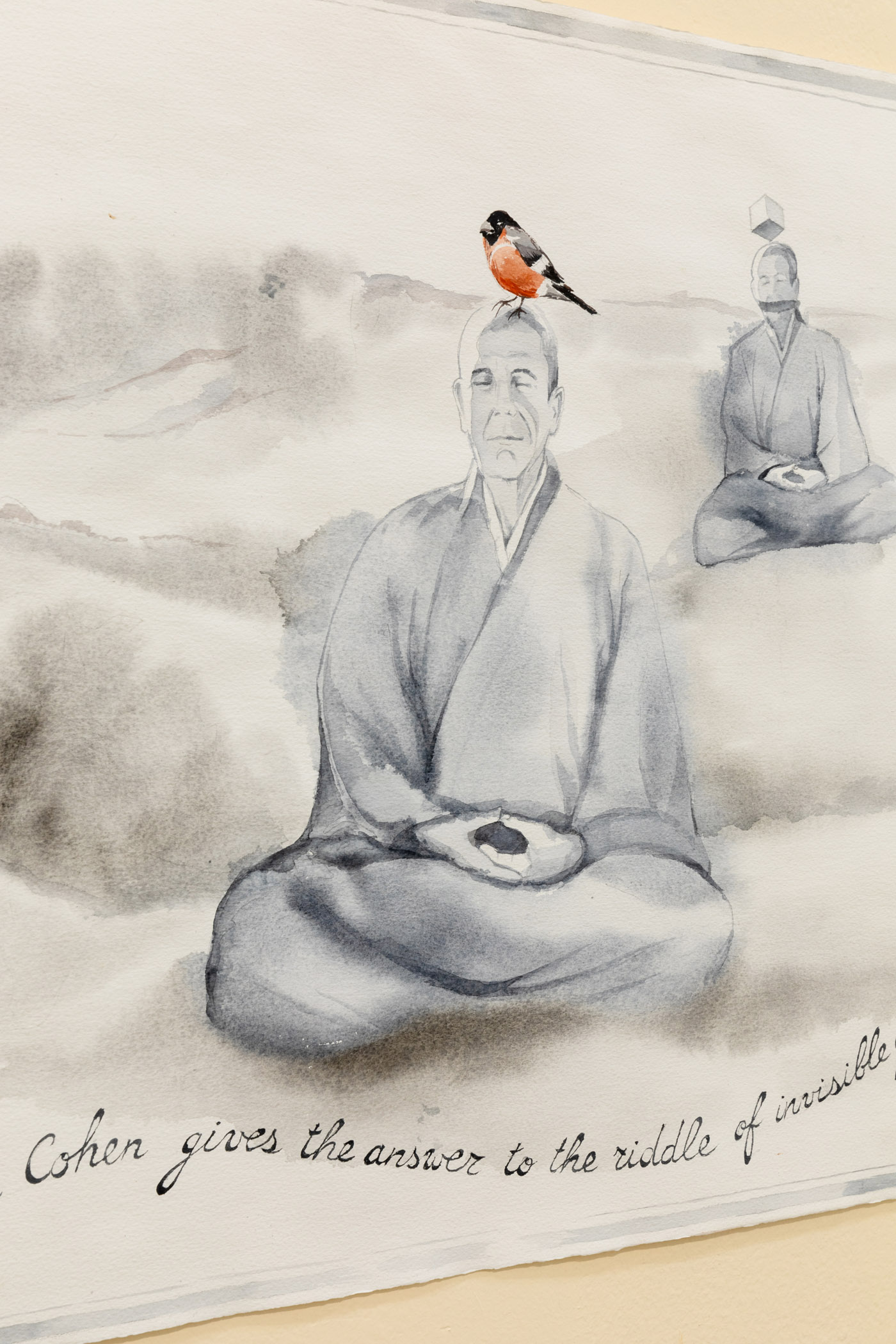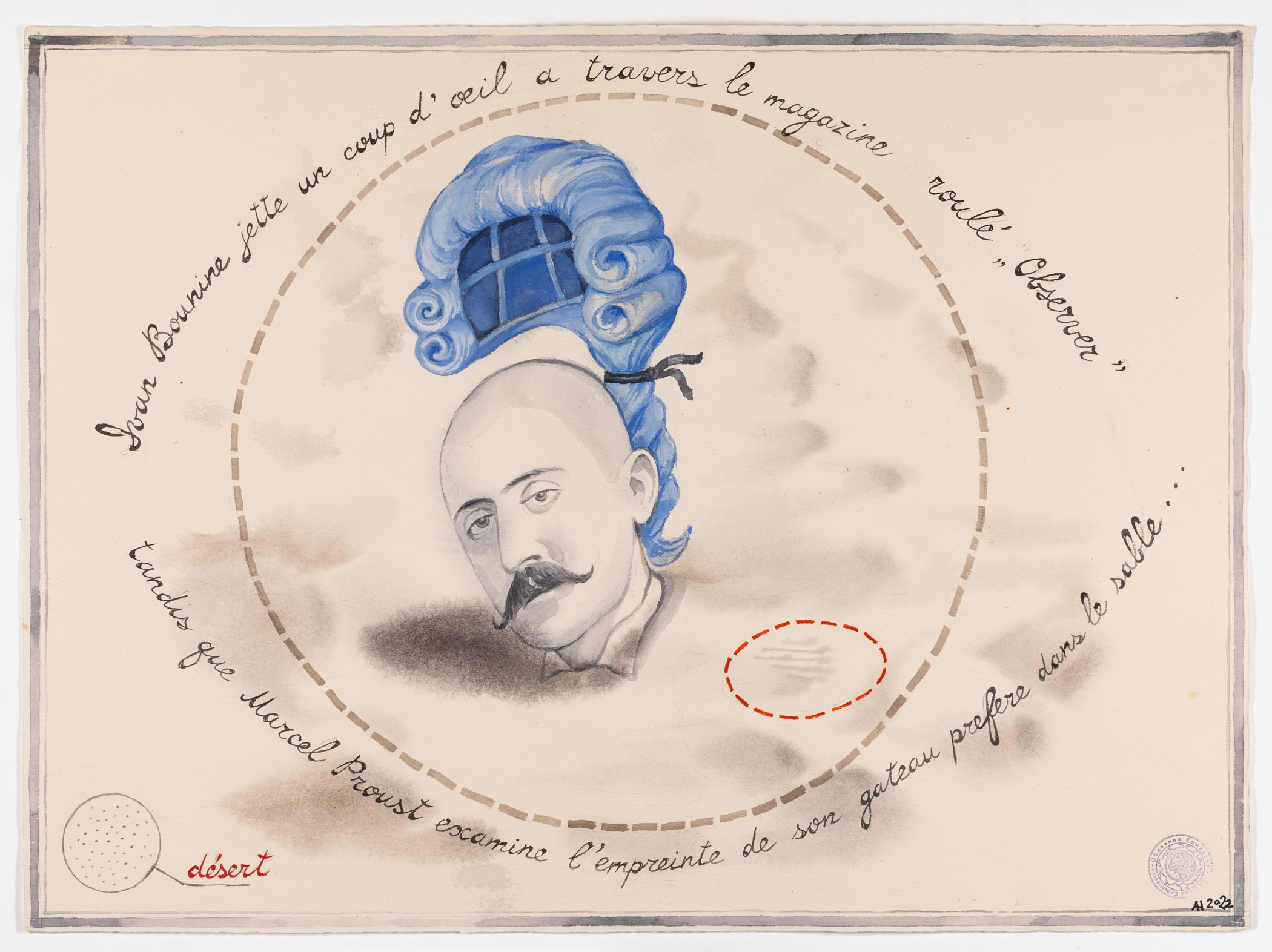 Topos Lost - 2
April 29, 2023
-
June 23, 2023
On April 29th, Arkadiy Nasonov's exhibition "Topos Lost – 2" opens at Iragui Gallery. This is a continuation of the project started by the artist in 2015 and shown at Iragui Gallery the same year.
Arkadiy Nasonov about the exhibition "Topos Lost – 2": "The exhibition will feature various combinations of inconsistencies. These are not surreal encounters of "an umbrella with a sewing machine", and not metaphysical encounters of geometric shapes in Suprematism compositions. If we look for the analogies in classical art history, these are similar to the landscapes with staffage.
To determine a set of personalities, objects, and their meeting places, I asked three acquaintances (not connected in any way with visual culture) to present me their own lists, to exclude any bias during the choice. One of them handed me a list of personalities from world culture, from which I chose only those whom I had not portrayed before. The other gave me a list of heroes from Russian culture, and I also selected some from that list using the same principle. The third made a list of items. Further, the chance determined their combinations, and placement inside one or another type of landscape."
Graphics from the "Topos Lost – 1" series will be presented at the Cloud Storage exhibition (opens April 27, 2023) at the GES-2 House of Culture. The Cloud Storage exhibition will bring together two groups of artists from different generations: the Cloud Commission founded by Arkadiy Nasonov and Polina Abina with Alexei Sebyakin. The artists' works deal with archives and their role in the life of society, and the ways of chronicling real and imaginary events.
The exhibition "Topos Lost – 2" will be open from April 29th until June 2nd.
Arkadiy Nasonov is most known as the founder of the art group "Cloud Commission" created in 1991. He is also linked to the circle of Medical Hermeneutics group, founded by Pavel Pepperstein in the late 1980s. Nasonov's work perfectly matches the term "psychedelic realism" — it is filled with conceptual hallucinations and esoteric associations. In 1995 Arkadiy Nasonov with S. Anufriev and A. Sobolev founded TARTU — a poetry society that positioned its poetic experiences in the tradition of the Russian school of linguistic structuralism.
Arkadiy Nasonov was born in 1969 in Sverdlovsk (now Ekatherinburg), Russia. Now he lives and works in Moscow. He graduated from Moscow Academical Theatre Institute (stage design) in 1991.
His work has been presented in several solo shows: at the State Institute of Art Studies in Moscow (2015), Freud dreams museum in Saint-Petersburg (2013, 2003), Zverev Center of contemporary art (2011), State Tretyakov Gallery with S. Anufriev (2005). Nasonov also took part in numerous group shows such as at Moscow Museum (2021), PERA Museum in Istanbul (2017), National Center of Contemporary Art in Moscow (2015), Moscow Museum of Modern Art (2014), Garage MCA in Moscow (2010). Works of Arkadiy Nasonov can be found in collections of Rijksmuseum Twenthe in Holland, and Deutschebank collection in Berlin. Arkadiy Nasonov received grants and fellowships such as a grant from the Dutch Institute in Rome in 2000, fellowships from La Napoule Art Foundation in 2002, and Kunstlerhaus (Worpswede) in 2003.