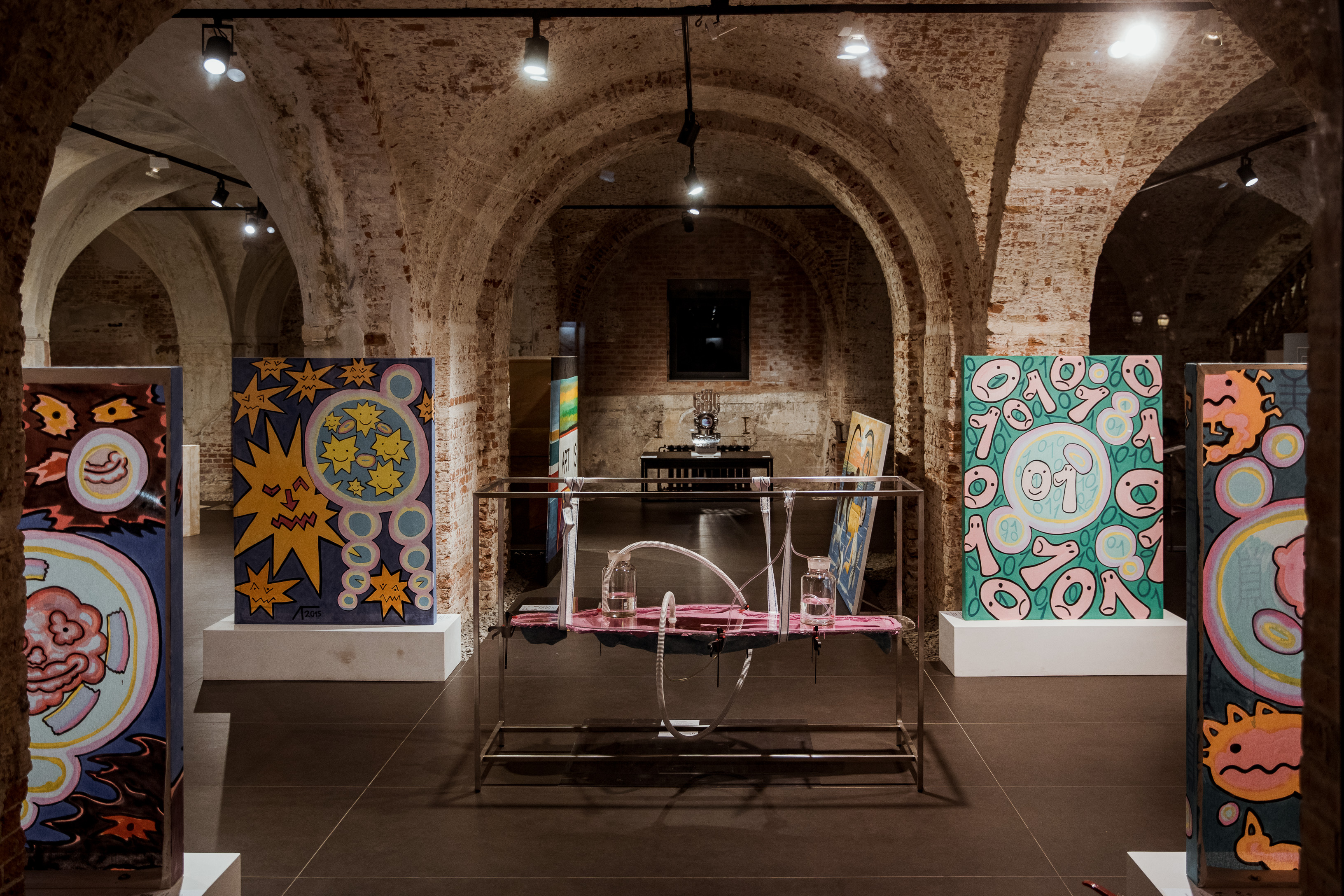 From the series «Soap Bubble Theory», 2015. Installation view at Schusev State Museum of Architecture
2020
From the series «Soap Bubble Theory», 2015. Installation view at Schusev State Museum of Architecture
2020

Solo show "Intelligence of Flowers". Installation view at Iragui gallery, 2020
Maurice Maeterlink. From the project Intelligence of Flowers
2018
acrylic on fabric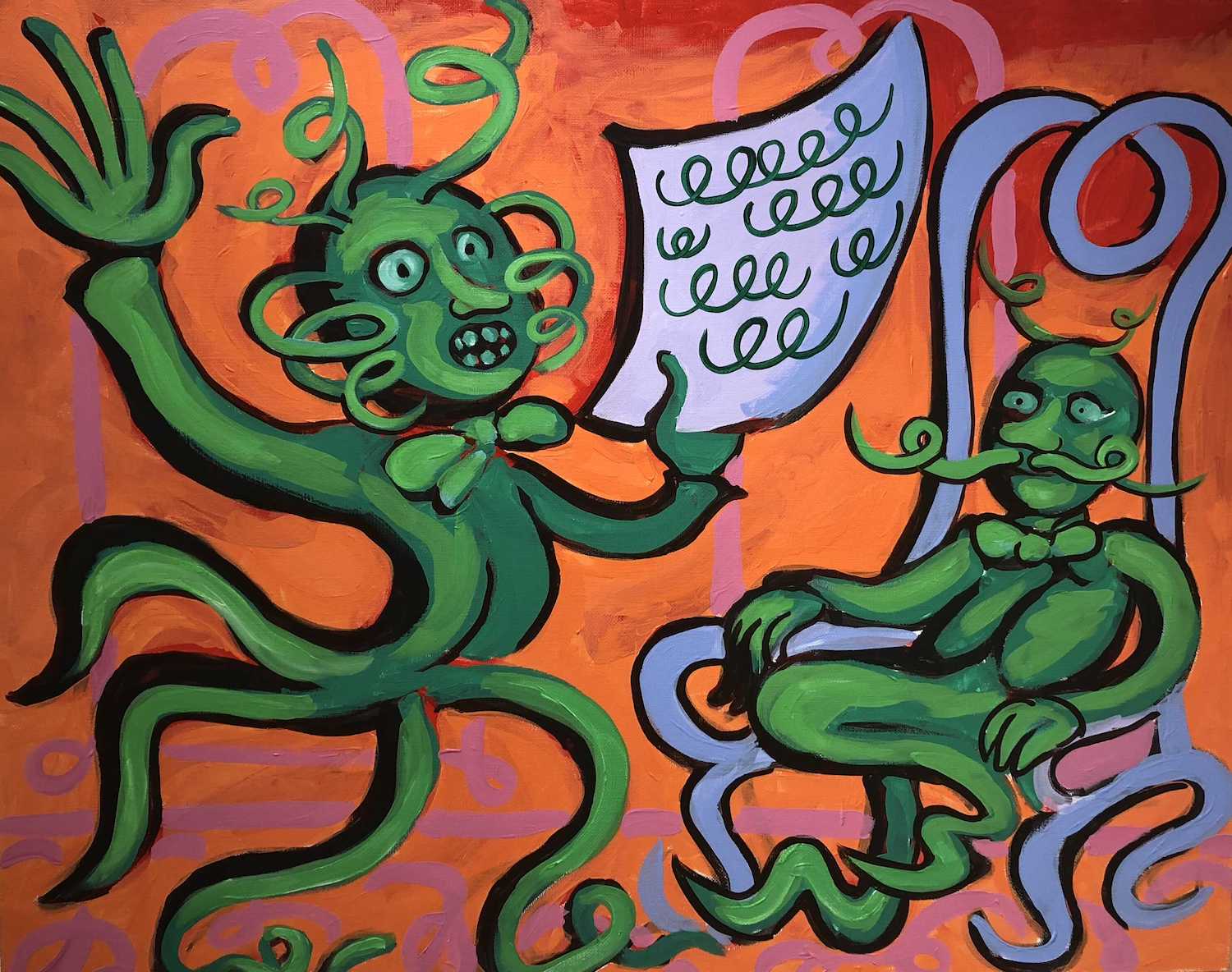 Poet and Tsar Peas. From the series Antinomy of the Artistic Mind
2018
acrylic on canvas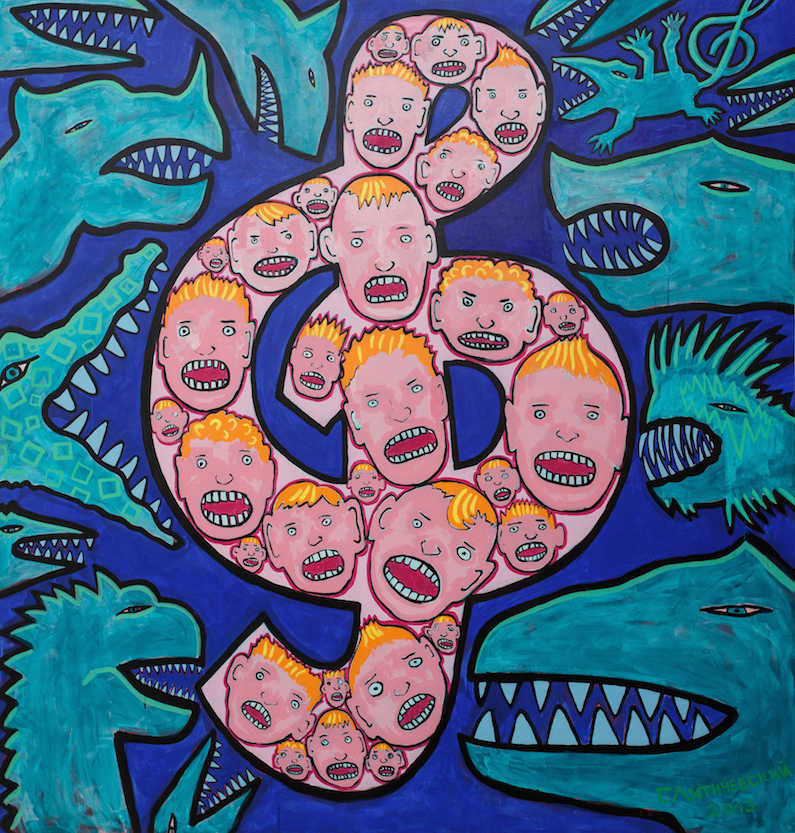 Treble Clef
2013
acrylic on canvas
Napoleon vert. Installation view at Iragui gallery
2012
Napoleon vert
2012
acrylic on paper
From the series Napoleon vert
2012
watercolor on paper
Big Cactus on the Window. From the series Cactus-Schmactus
2008
acrylic on canvas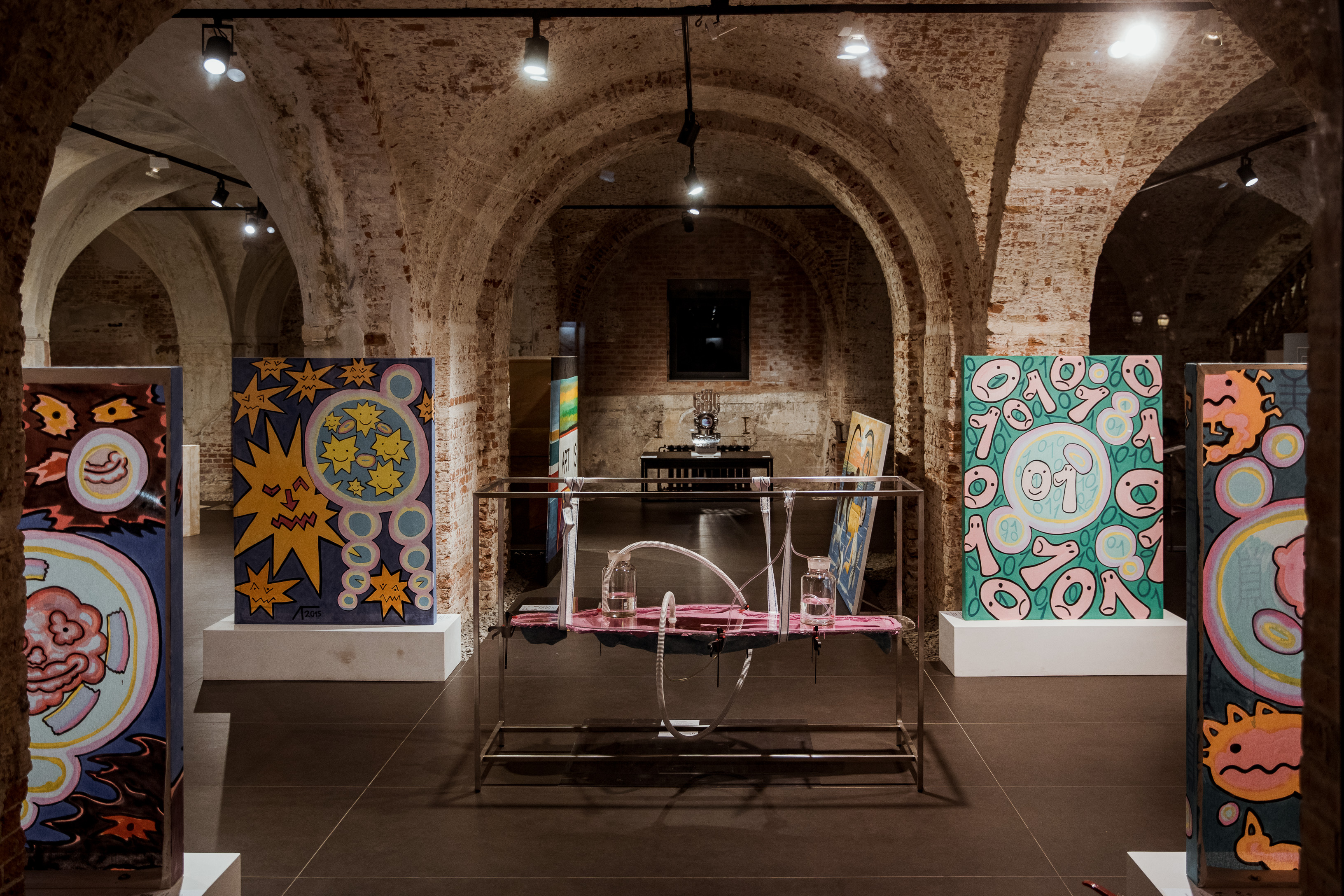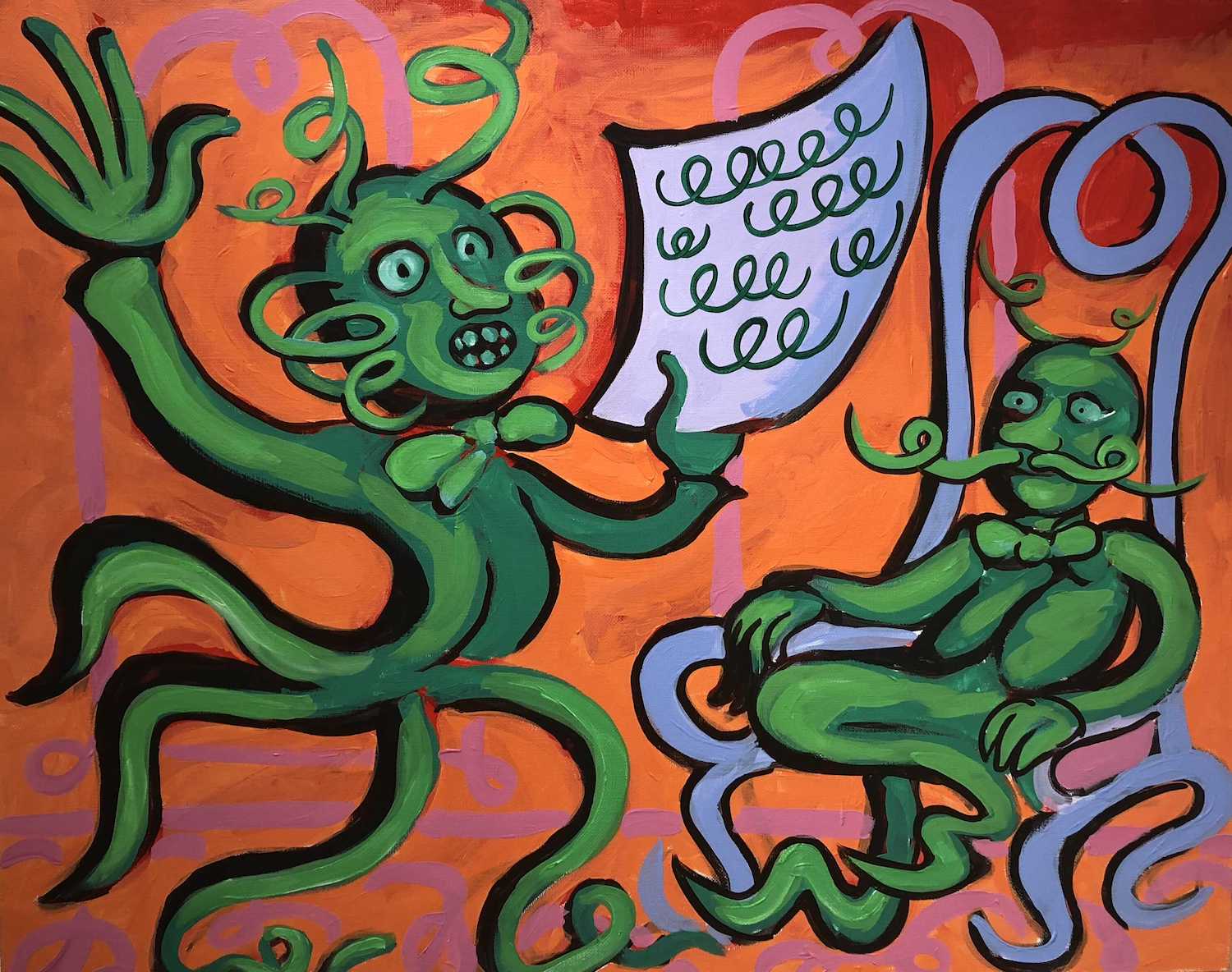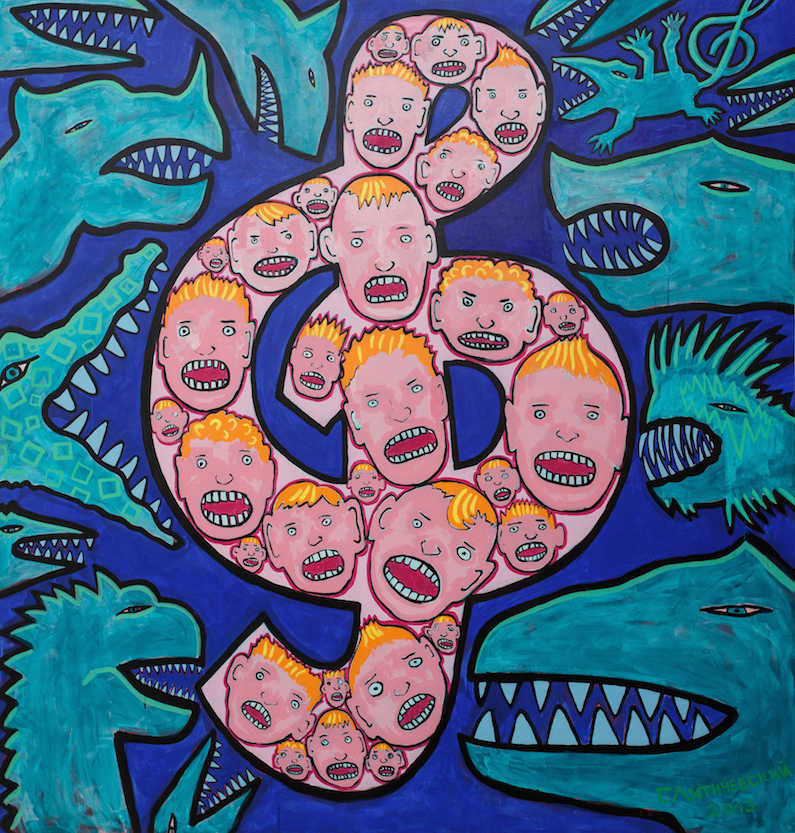 In his practice Georgy Litichevsky works with the aesthetics of a comic book. This method allows him to use any kind of material, ranging from a magazine page to a gallery wall, and to touch any kind of topic. A graduate in the field of ancient history, he often speaks about events of the past. Philosophical speculations, reflections on Russian and foreign literature and folklore, an artistic view of science – all this can be found in his projects. Litichevsky turns his artworks into replete and often ironic stories; they are windows in parallel worlds, always closely connected with ours.
In 1985-1986 Litichevsky collaborated with the group «Detsky Sad», and in 1986 he founded the art group "George & George" together with Georgy Ostretsov. From 1990 to 1992 he was a member of BOLI, the group, which he co-founded with Farid Bogdalov. In 2005-2010 Litichevsky organized performances as a member of a perform-group "Zianida". Since 1993 he has been one of the editors of "The Art Journal", founded by Viktor Miziano.
Georgy Litichevsky was born in 1956 in Dnepropetrovsk and now lives and works in Moscow and in Nürnberg. In 1979 he graduated from the Moscow State University, department of history. Among his solo exhibitions are projects at Vadim Sidur Museum in Moscow (2018), at the State Museum of Modern Art in Thessaloniki (2016), Kunstaschranne art center in Weissenburg (2014). Throughout his career Litichevsky also participated in numerous group exhibitions, such as projects at the Museum of Architecture in Moscow (2020), Galerie Mansart in Paris (2017), Center for Science and Culture in Berlin (2016), City Museum in Graz (2015), Centre Georges Pompidou (2013). The works of Georgy Litichevsky are held in the collections of the State Tretyakov Gallery, Moscow Museum of Modern Art, Kiasma Museum in Helsinki, Center Georges Pompidou in Paris, Museum of Modern Art in Thessaloniki, Oklahoma City Museum.