Installation view at Iragui gallery, 2021
Installation view at Iragui gallery, 2021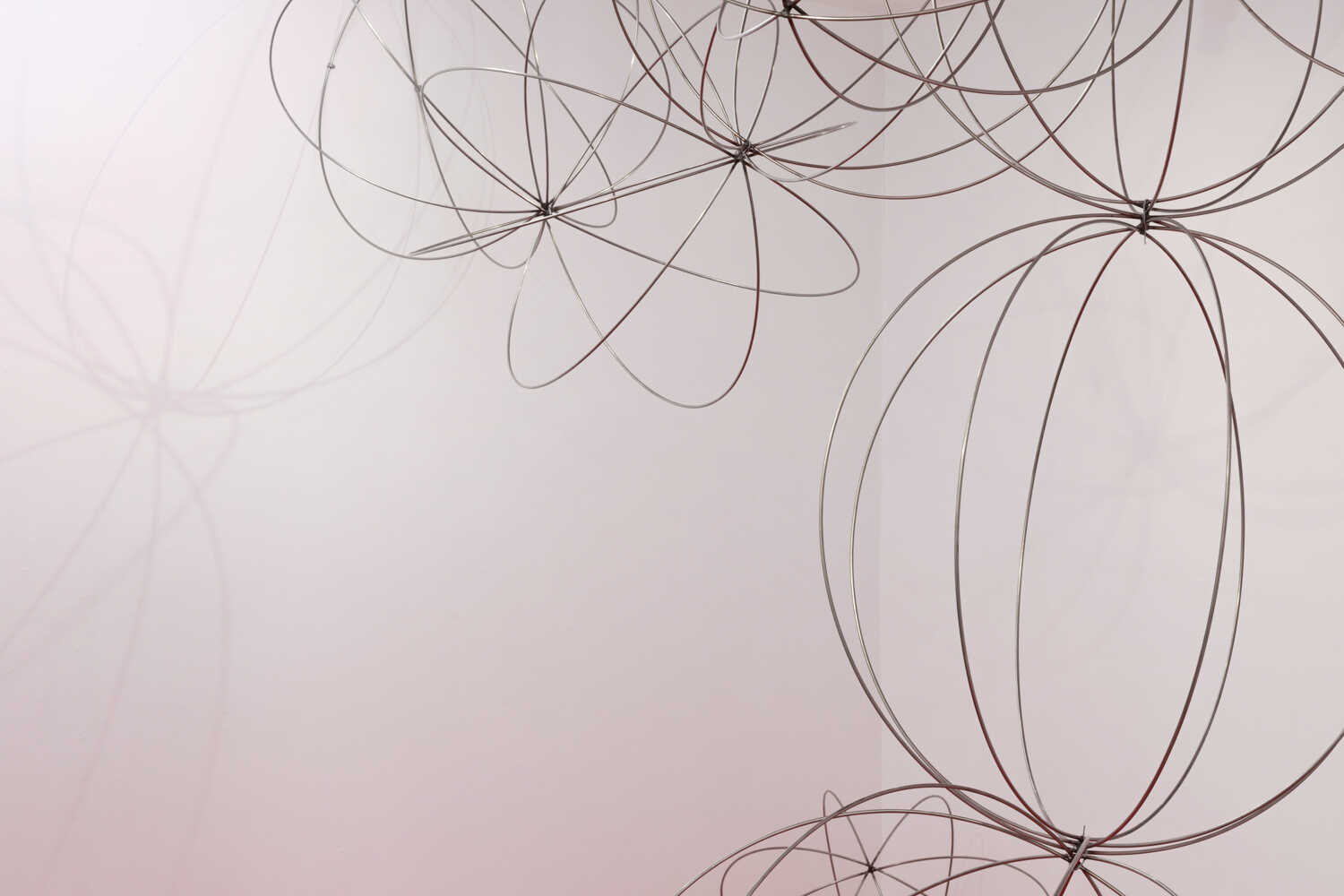 Installation view at Iragui gallery, 2021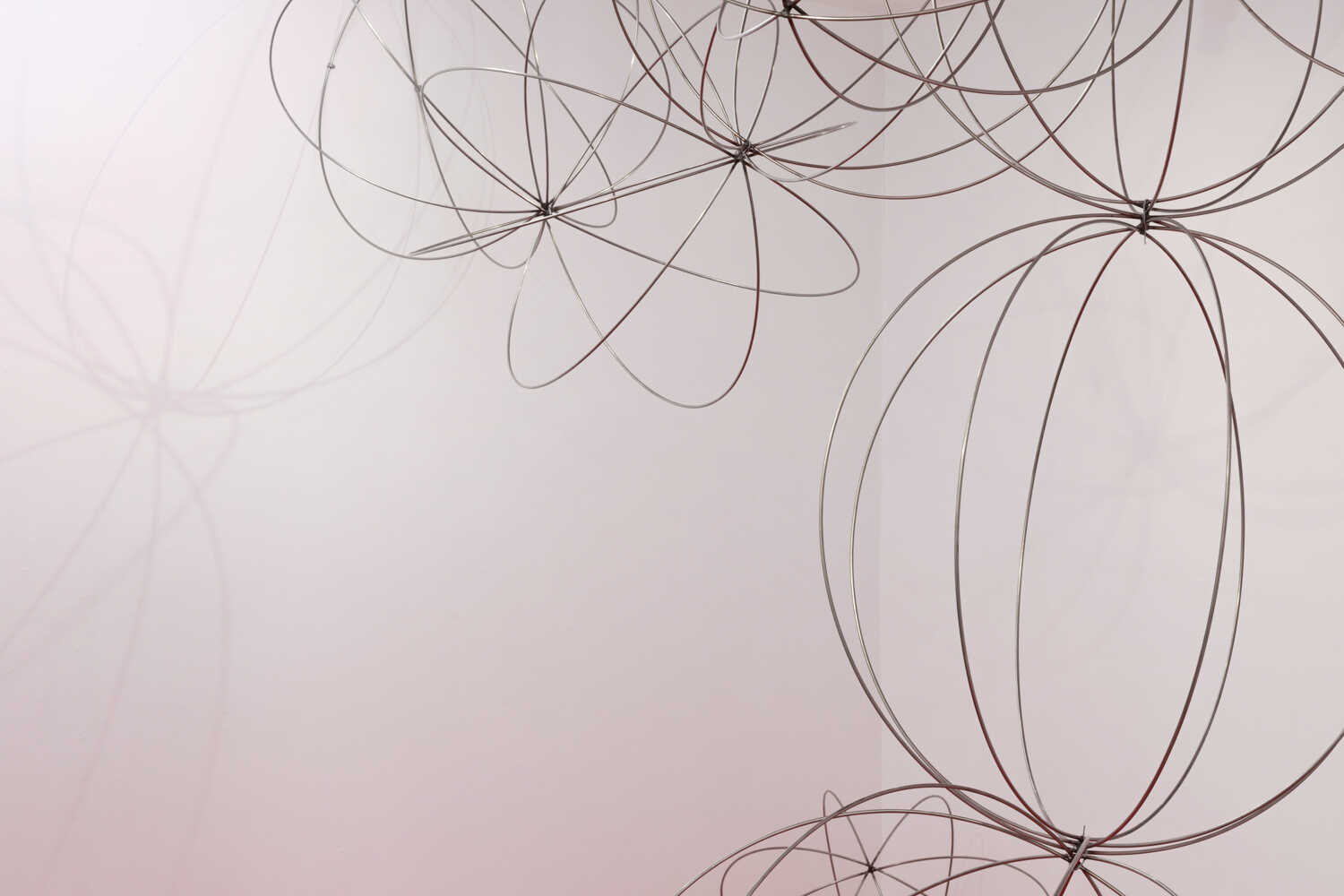 I see a catastrophe all the time I sleep
January 19, 2021
-
March 19, 2021
collaboration:
MYTH gallery, Saint-Petersburg
"I see a catastrophe all the time I sleep"
Sculptural installation of 16 spheres and a ton of quartz sand dyed in acid pink Magenta. The spheres are made of stainless steel with 1 meter diameter each. The total size of the installation varies: approximately 4 x 5 x 3 m.
A small dictionary.
● Color
Pink. It has evolved from a delicate shade of a cute baby dress to the most acid color of all. It is a color of destruction, shame, violence. A form is set on the pink sand.
● Form
A ball is the only figure in constant motion, its self-renewal occurs without any external force. It is the ideal of cyclicality. The recurrence of the silhouette makes the form filled with emptiness.
● Emptiness
An artist creates something from nothing every time.
A human being needs very little to live – a line that draws a circle. The circles gather in balls, the balls form space.
● Catastrophe
It is a sign of destruction, followed by a new cycle of all that exists. The end – inevitably – marks the beginning. Catastrophe is a form of refraction of the old ways. By rejecting the old, a person creates a new space.
---
"This installation is a hard day-to-day work: bending stainless steel on a rolling mill, welding rings, hand coloring sand – tons of quartz sand – with acid dyes. Week after week. The duration of the process for me is an integral part of the result. But no matter how difficult the job is, no one shall see what it cost. It shall seem that it is easy and natural, like inhale and exhale. As if it never happened.
Sure, there is no audacity, no political themes, no deliberate expression – everything is obvious and eye-catching. But I do not want to pursue a theme just to check the box, something like "Well done, good work on developing the idea". Oh no, not this, please. I'm working with what I have in my hands right now.
When the artist's mood is crappy but bearable, you can work with it. Play with it. There is a sea of examples. But when everything is unbearable, you start to enjoy the pain, the excessively hard work and go too far. You want to erase it from your memory but you cannot, and neither can you transfer it to work. There is no one to share this burden with, and, drowning in obsession, you try to build an ideal shiny well-organized world, with no flaws, no ugliness, no drama. In order to cope with it.
This is what Boris Sveshnikov did in his graphics, trying to concentrate consciousness on a small dot, multiplying it into hundreds more, so that memory would release you, would not drive you crazy, so that it would not reflect in flowing tap water, in a briefcase of a man passing by, in familiar intonations of unfamiliar voices, in the slam of the door, in the turn of the key in the lock.
I focus on the structure.
The feeling that you have changed locks your consciousness into a perfectly tailored cage (like in that song by Peter Gabriel, My body is a cage), and you reflect on your stuck everyday reality. This is a catastrophe that crumbles into memories with any flashback.
A constant unresolved premonition born from a state of mental imbalance, the depth of which causes the only desire – to build a perfect visual picture.
I do not want to be somewhere out there in an augmented reality that went not as perfect as we wanted.
But here."
Liza Bobkova
Liza Bobkova (b. 1987) is a contemporary Russian artist. She graduated from Stieglitz State Academy of Art and Design (St. Petersburg) in 2011. The artist works with installations and she also works in different media such as metal work and paper drawings. Selected solo shows include: I see a catastrophe all the time I sleep in Iragui gallery (Moscow, 2021) Eagerly loved dear friend in Richter hotel (Moscow, 2020), Buffer zone in MYTH Gallery St. Petersburg, 2019), Once we became the time in Pink Pong gallery (Moscow, 2018), When all rastamans let their cats go in Cite Internationale des Arts (Paris, 2016). Liza Bobkova is a winner of the "Digital Dreams" competition by Cultural Creative Agency Qatar-Russia and MMOMA (2020), participant of the residence Cite Internationale des Arts (Paris, 2016). Works are held in private collections in Russia, France, UAE, the United States, Hong Kong.