Installation view at Iragui gallery, 2021
Installation view at Iragui gallery, 2021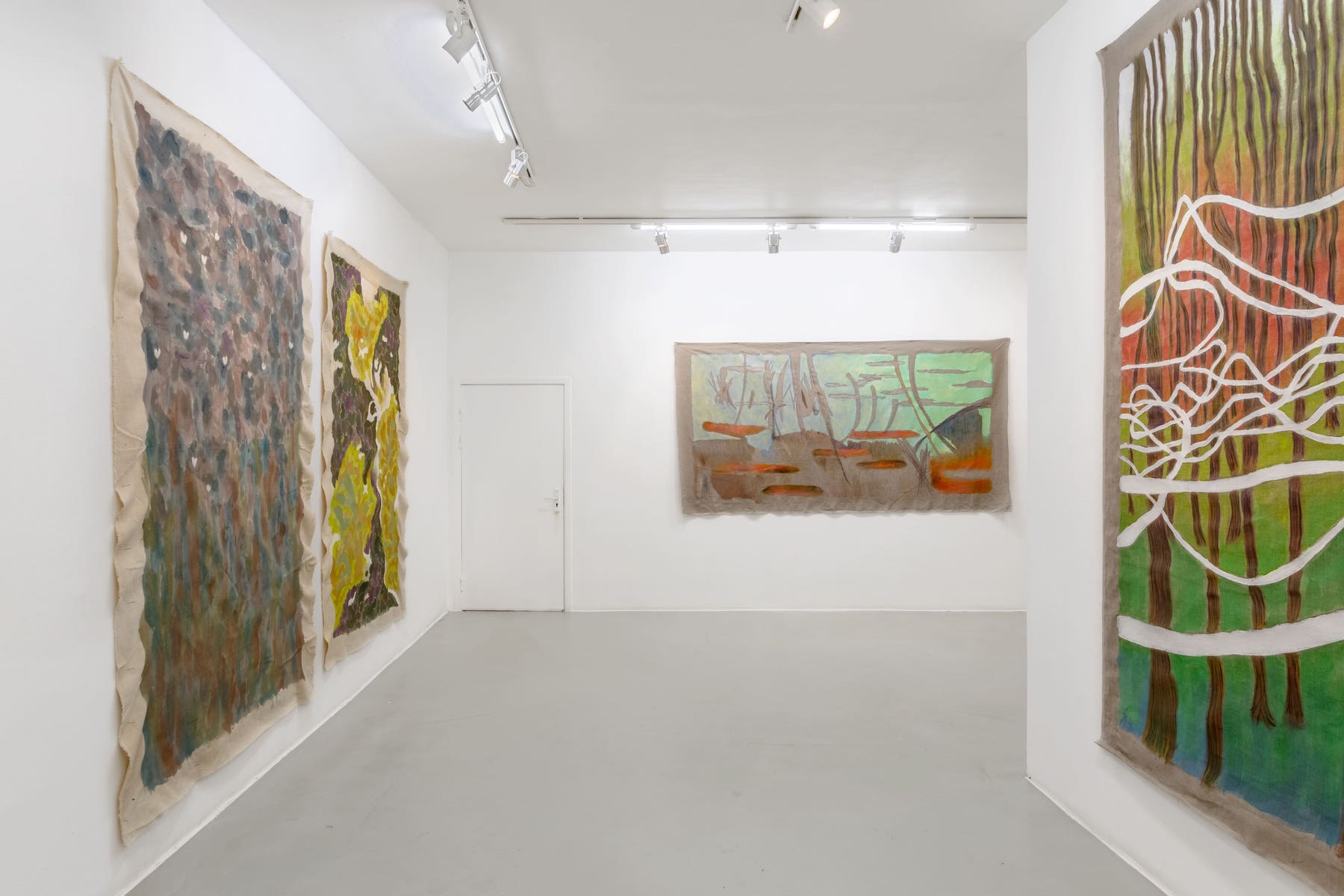 Installation view at Iragui gallery, 2021
Untitled (abstraction)
2021
Acrylic, watercolor pencils, watercolor oil pastel on linen canvas.
260x125 cm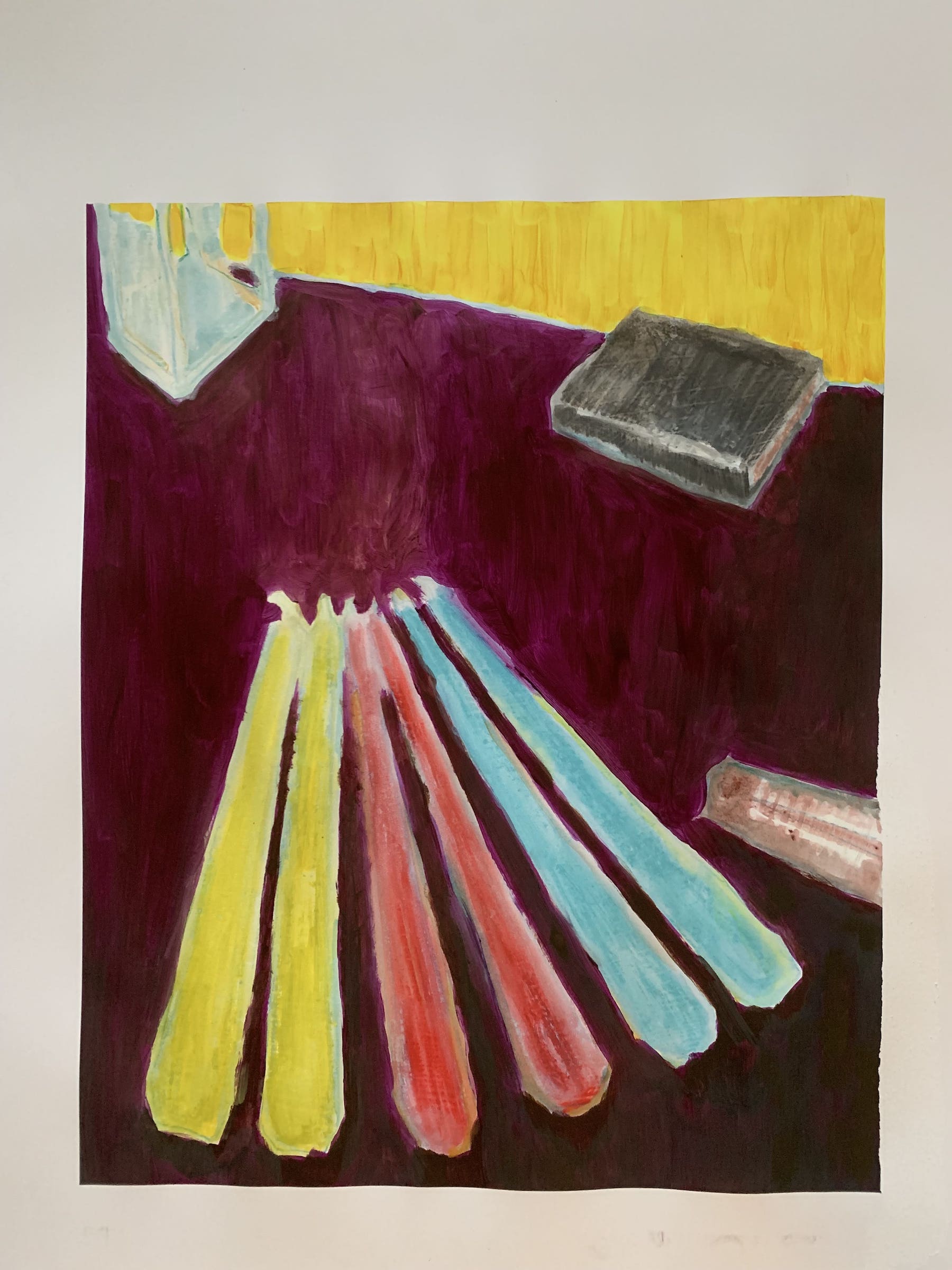 Candles
2021
paper, watercolor, acrylic, watercolor pastel crayon
92x64 cm
Shadow
2021
paper, watercolor, acrylic, watercolor pastel crayon
92x64 cm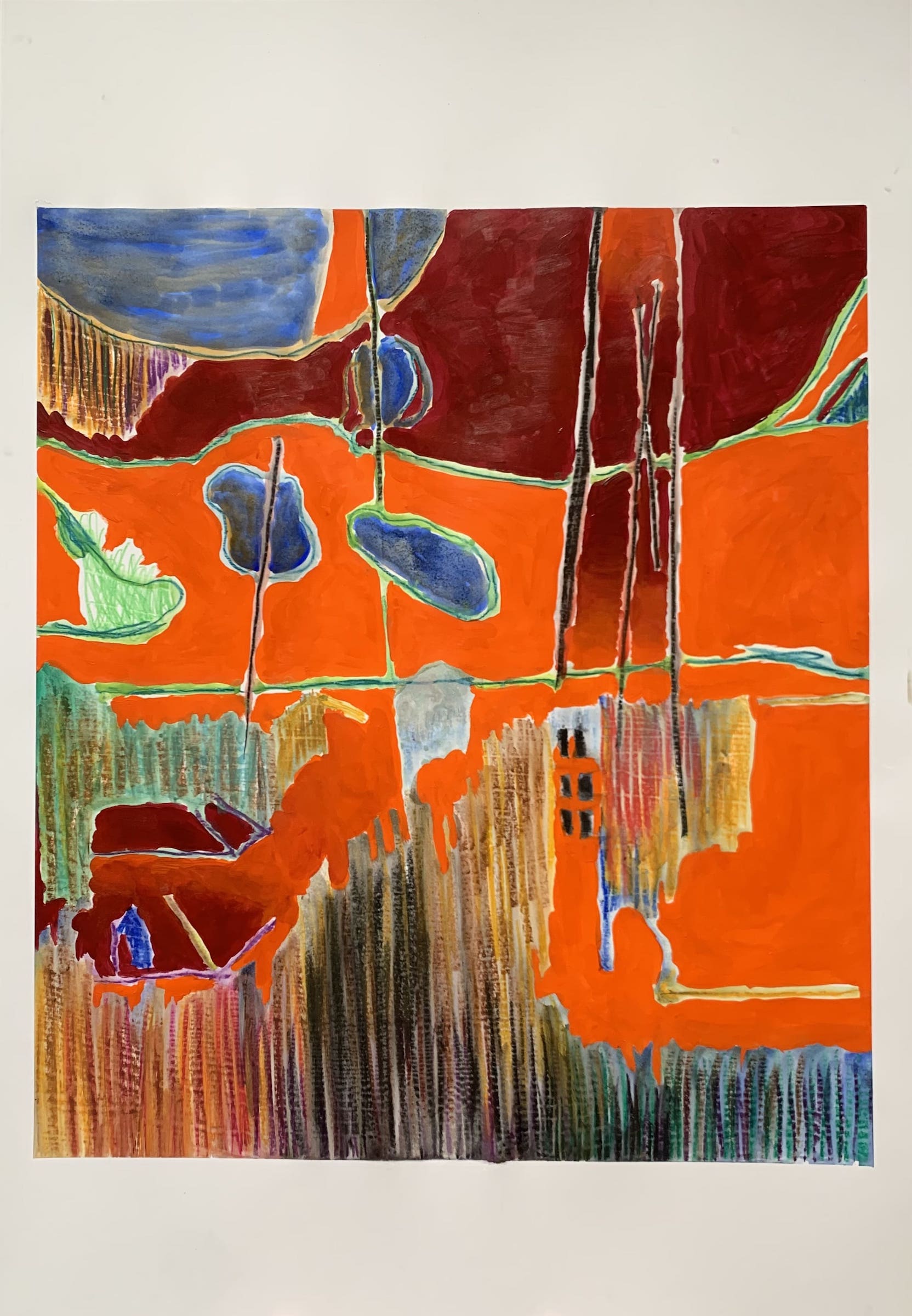 Untitled
2021
paper, watercolor, acrylic, watercolor pastel crayon
92x64 cm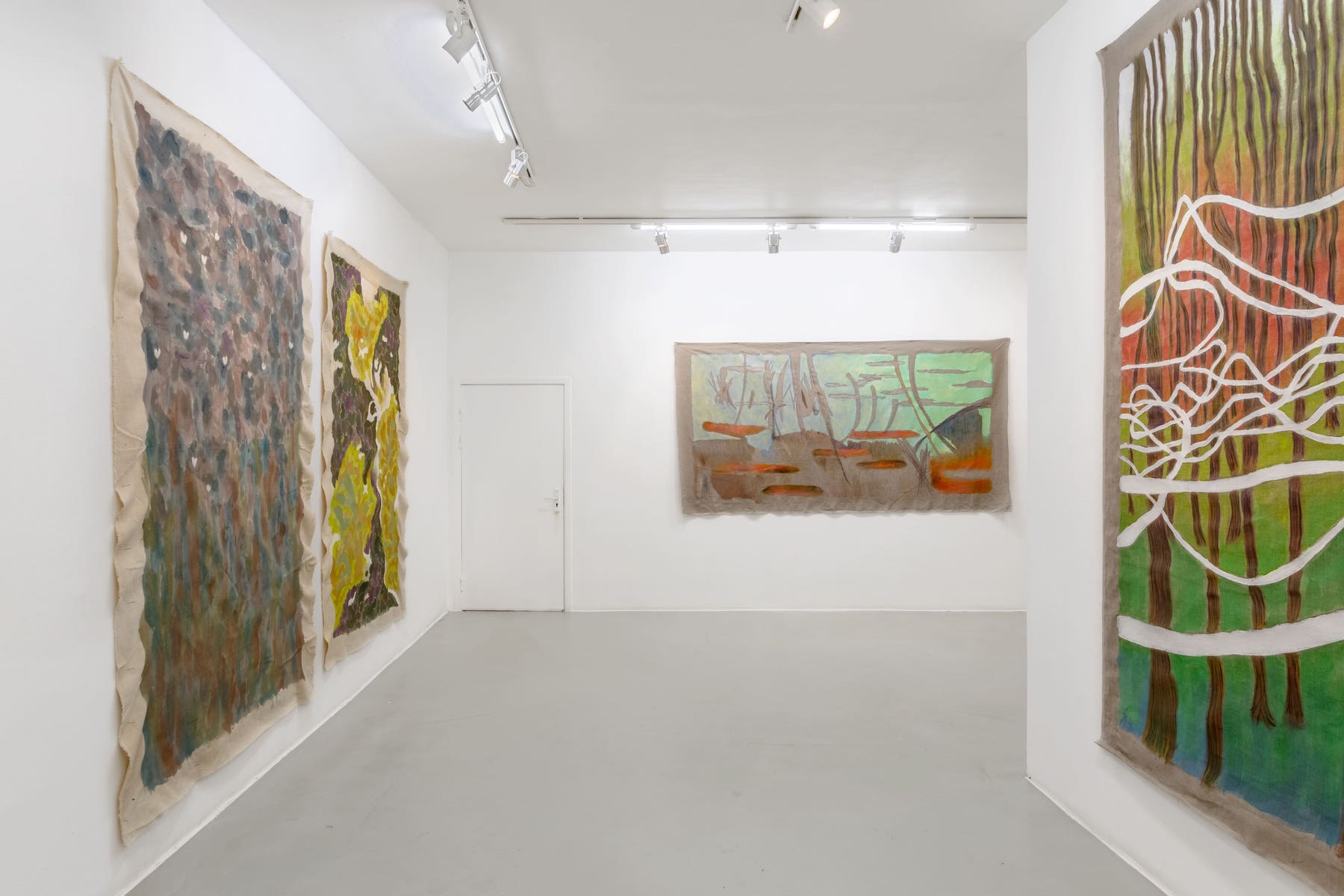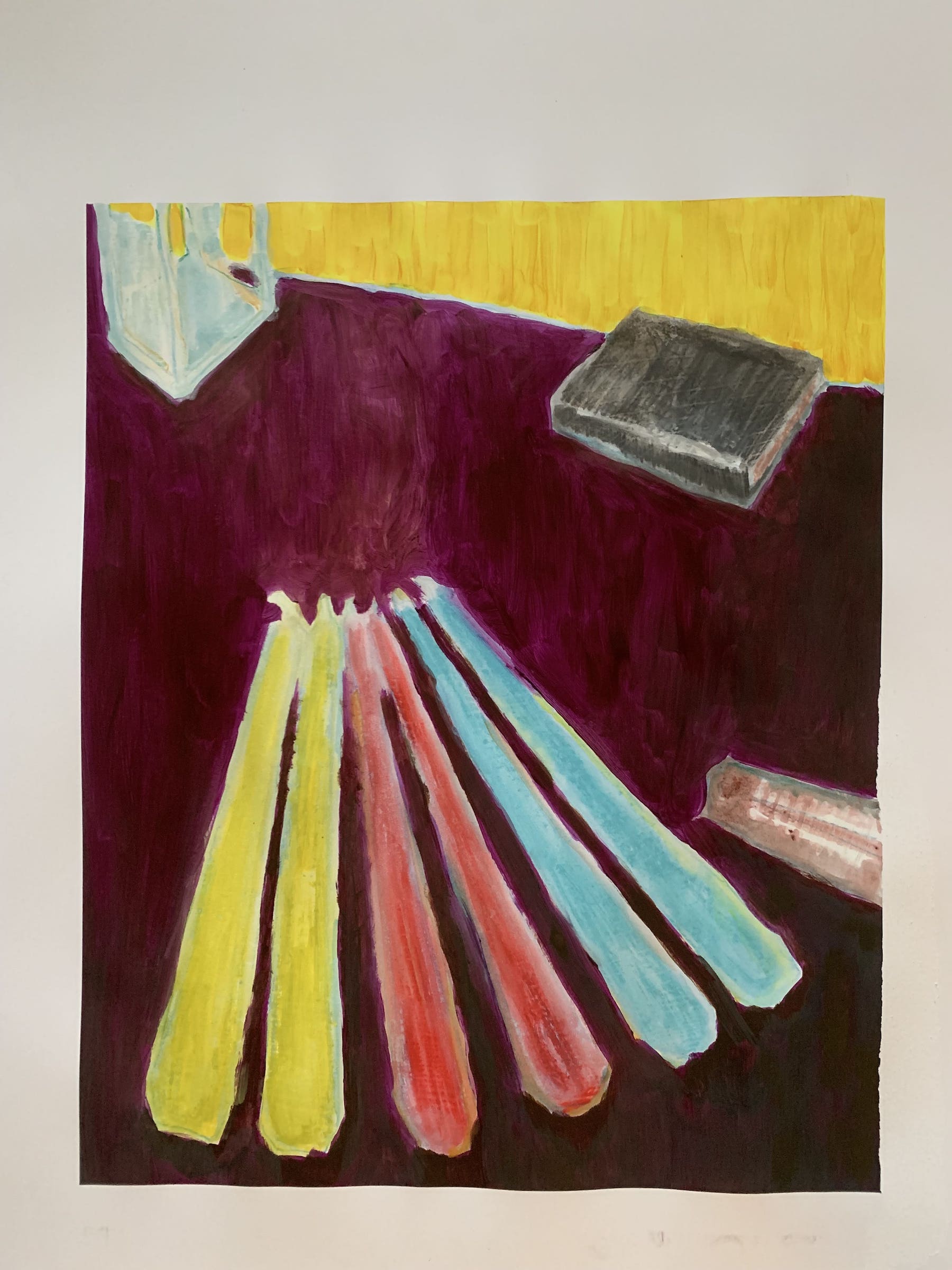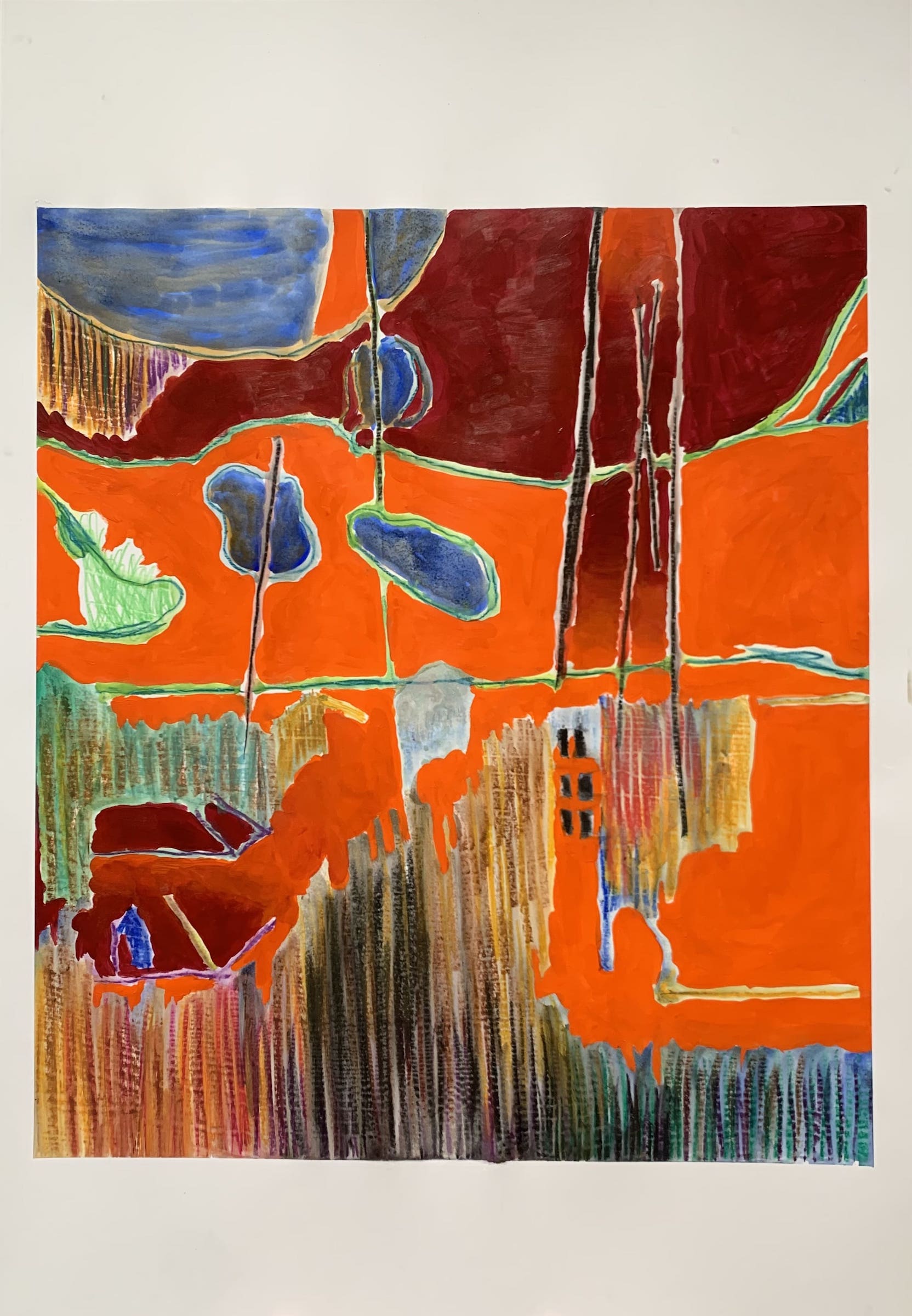 Flickering memory
November 24, 2021
-
January 29, 2022
collaboration:
Nicolas Audureau
Petr Kirusha draws. His technique is both traditional and unusual: after all, watercolor oil pastels on paper or canvas generally do not mix well with acrylic paints. However, this chemical and academic incompatibility creates the contrasting effect between bright continuous planes and organic lines, and the visual effect of these works vibrates long in our consciousness.
His approach to painting is eclectic: creating works from found images, photographs, pictures from memory and imagination, he draws scenes that seem familiar, and ultimately utopian in content, having only an aesthetically connotation of intimacy – yet causing the viewers to project their own experience on it.
Petr Kirusha considers the basics of representation by the drawing and painting method as the transfer of the contents of memory through space and time; the transfer of the memory corpus of the artist himself, who with his painting indicates post factum his attitude, the eternal "it was" according to Roland Barthes, the necessary and at the same time elusive proof of the presence of a phenomenon in space, and perhaps even its very existence, the trace left by it; finally, the painting is the only possible test of its existence in the world as a phenomenon.
Petr Kirusha was born in 1978 in Dushanbe, Tajikistan, but his parents shortly moved back with him to Latvia, namely to Riga – in both cases we are talking about the USSR republics, which later became independent countries. He himself speaks of the effect of his "deterritorialization" (detachment from the territory), and in some way we recognize this effect in his artistic approach. Since the start of the lockdown in March 2020, he has been drawing personal situations suggested by the Facebook feed in his sketchbook, and then photographing the sketchbook page or screen to re-launch it on social networks; it is kind of a way to introduce organic images to a place where, one would think, on the contrary, any organic form should turn into a smooth object; it's like letting a worm into an apple. Thus, the totality of his drawings and paintings makes up a Heuristic map of his memories and situations that he experienced or which he shared on social networks. The impression that the images are floating through the air like flittering scotomas, the optical effect of memories and actinic spots (so-called phosphenes) is being created, and as a result the picture continues to flicker in the visual area even after it disappears – if, let´s say, you close your eyes.
There is another form of "detachment from the territory": using an augmented reality application (such as Just a line), Petr Kirusha draws lines in space. Based on those drawings, made in virtual geography, he transfers the image with chalk and acrylic paints to the canvas, rendering three-dimensional lines in two-dimensional space. In other words, this time he also transfers, in an organic way, onto the material (canvas or craft) a smooth element, originally conceived in isolation from organic reality.
Finally, from his last series of watercolors on paper, the same "glitch" comes up, a glitch in the image. The color spots do not perfectly reproduce the picture, as if it was hastily scanned in 3D: some elements are clearly distinguishable, while others are not memorized by the machine. This way Petr Kirusha expresses the great confusion reigning in memory, when, in order to recreate the history, we need to find and glue the pieces found in the realm of the forgotten.
Nicolas Audureau